Seasonal warehouse hiring getting underway
9/19/2018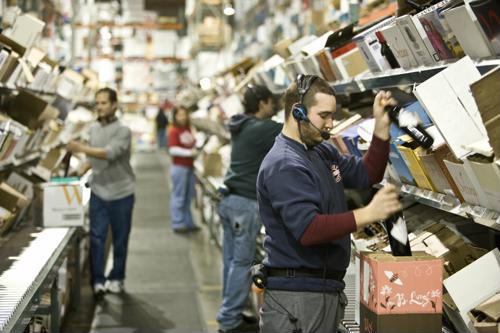 Over the past few years, many companies of all shapes and sizes have tried to staff up in their warehouses as a means of meeting higher demand for logistics services across the country. However, many of those efforts ramp up even more than usual at this time of year, as companies look to fill seasonal warehouse jobs ahead of the holidays. That, in turn, only increases the already high competition for a relatively small pool of would-be workers in a given region.
The competition for seasonal warehouse employees is expected to get more intense this year, thanks to the strong economy and the low unemployment rate that has allowed many people who might have otherwise been interested in a seasonal gig already having steadier jobs, according to the Toledo Blade. That level of demand among employers has created a real seller's market for those on the job market, with one big box retailer offering workers near Toledo - where the minimum wage is just $8.30 per hour - salaries of as much as $16.20, plus deeper-than-usual employee discounts.
Other types companies driving demand
Meanwhile, many of the world's biggest delivery companies are also looking to staff up, only adding to the competition for un- or underemployed workers, the Blade's report said. UPS, for instance, will offer seasonal hires in the region between between $10.35 to $18.75 per hour based on the jobs they're filling, plus a strong chance to be hired full-time after the holiday shopping season ends.
That's part of a more widespread effort by the delivery titan to hire about 100,000 people nationwide for the holidays, up from the 95,000 seen last year, according to 24/7 Wall St. Meanwhile, FedEx plans to bring aboard 55,000 workers at this time, and a number of major national retailers are planning to boost hiring with six-figure goals. It seems many are expecting heavy spending this holiday season.
"We will put on more capacity this year than we ever have put on before," UPS chief strategy and transformation officer Scott Price told the site. "That capacity will help us in some of the geo areas where there was a disproportionate growth."
Getting a head start
The clothing retailer Gap Inc., is also getting into the holiday staffing game these days, and will bring aboard more than 1,100 people to work at its warehouse in Fresno, California, beginning in October, according to the Fresno Bee. That's part of a larger effort by the Gap to hire about 65,000 people for seasonal jobs at its warehouses, retail stores and associated chains like Banana Republic and Old Navy.
Currently, the company has about 300 people working at its Fresno fulfillment center, but recently announced plans to add more than 500 new permanent jobs there over the next few years, the report said.
As companies are now learning, the massive amount of competition for capable warehouse workers necessitates that they offer employees higher hourly pay and solid benefits packages they might not have previously extended to seasonal employees.