Warehouse worker pay a big concern ahead of holiday season
9/24/2018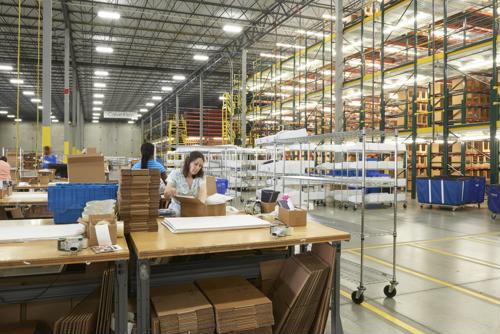 With seasonal work for warehouses and delivery such a big part of the holiday shopping season for many employers nationwide, there's a bit of a new hurdle in the job market that could restrain companies' ambitions. The fact is that even as businesses that will rely on logistics work this holiday season are laying out aggressive hiring plans for the holidays, there is some concern that the low national unemployment rate will restrain hiring abilities in some case.
With that in mind, experts say companies looking to hire at this time of year will have to significantly sweeten the pot to compete for potentially thousands of regional workers in an ever-thinning pool of people looking for a job, according to the Springfield News-Sun. Offerings like stronger pay and benefits are certainly at or near the top of the list for many workers who may be enticed to take on seasonal work, but so too are issues like schedule flexibility and the ability to turn that part-time work into a more permanent position.
Industry insiders by and large believe that because unemployment is so low, companies may not be able to be as choosy as they once were, but will likely still be able to find interested parties if they look hard enough, the report said.
Concerns about pay levels
While many companies are now starting to raise wages - especially when they desperately need to hire large numbers of people - some consumer advocates believe more can be done to pass the benefits of the improving economy onto the workers who fuel today's strong business margins, according to the Columbus Dispatch. High pay is often seen as a great way to attract workers initially, but when companies don't always provide raises and other benefits, that can be what fuels attrition, as workers continue to seek out higher-paying opportunities as a means of meeting their basic expenses.
While this may save companies money in the short term, experts note that worker turnover ends up being quite expensive for companies because experienced employees tend to be more efficient, and businesses won't have to bear the costs of conducting more rounds of hiring, the report said. With that in mind, higher pay is often one of a number of steps firms can take to ensure workers stick around, even on a seasonal basis.
Industry issues
Meanwhile, in California's Inland Empire - home to many warehousing efforts - data suggests wages for logistics work have largely been stagnant for more than a decade, increasing just 1.5 percent, even as pay for the same jobs in neighboring regions have grown sharply, according to Globe St. This is due, in part, to how hard-hit the area was by the economic downturn, which created a massive labor pool from which those companies could draw. However, the fact that they haven't begun to increase more appreciably even as the economy improved highlights areas where businesses might be able to make more headway with hiring.
Companies need to continually evaluate what they pay their employees, and the other benefits offerings they provide, to ensure they are able to both attract and retain talented workers, even during the holiday season.