6 tips for operational efficiency in your warehouse
10/16/2019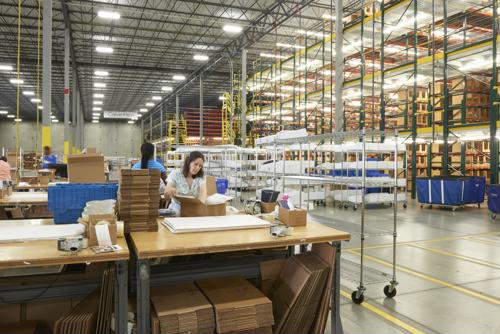 In today's logistics sphere, efficiency is increasingly the name of the game. There are so many organizations in the sector nowadays that if you're not constantly striving to squeeze every ounce of efficiency out of your operations, you could find yourself falling behind. So the question is clear: How do you continually improve?
The following tips should help you get a better handle on those efforts:
1) Review everything you do currently
One of the most important aspects of getting your current operations up to speed is assessing as much as you can, according to Vero Solutions. The fact is, even if you have clear best practices in place, little kinks in your processes are going to crop up naturally over time. As such, it's important to see if any of those issues have arisen, and determine what you can do to iron them out.
2) Think about the future
When trying to deal with any efficiency issues that might be lingering over your efforts, it's also important to set goals for your team based on not only current needs, but those you're expecting six, 12 or more months down the line, Vero Solutions added. For instance, if you decide it's a good idea to rearrange the layout of your warehouse, you have to plan for considerations such as whether things like your strategies for increased activity around the holiday season would be impacted by the new floor plan.
3) Train, train, train
When you're trying to get everyone on the same page with a new approach to your daily operations, training is absolutely critical, according to 6 River. It's one thing to tell people how to get the job done right, it's another thing entirely to show them and have them repeat the processes with test runs so they know exactly how to react in every situation. This shouldn't be a one-and-done effort, either; training (and re-training) needs to be something you tackle on a regular basis.
4) Bring safety to the forefront
Part and parcel with operational training are efforts to make sure everyone knows how to do their jobs safely, 6 River cautioned. Even a small accident can set efficiency back significantly, delaying operations or closing down certain parts of the warehouse for hours or even days on end. Consequently, it's critical to make sure everyone knows the best practices for safe work.
5) Go higher
From a different standpoint, another big reason warehouses run into efficiency issues is their shelves get overstocked or crowded, according to EMS Barcode Solutions. When this happens, it's important to consider ways you can keep your floors clear by making use of cubic - rather than square - footage. Instead of adding shelves to take up more space, add shelving above your current shelves to ensure you're getting as much use out of your current facility as you can.
6) Keep track of key performance indicators
Efficiency plans aren't set-it-and-forget-it, but part of an ongoing process as your business grows and changes over time, EMS Barcode Solutions noted. As a result, you need to choose some KPIs and monitor them closely, then make new decisions based on how well your organization meets your goals.