Warehouses relying more on technology than ever before
11/8/2019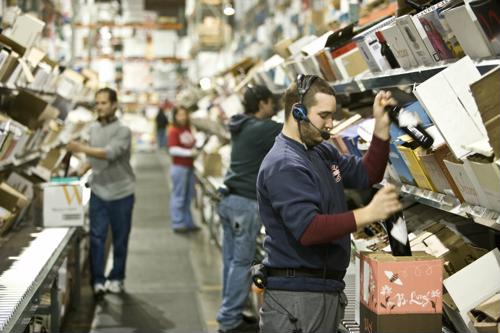 Efficiency is the name of the game in logistics, especially as competition heats up and demand seems to be on a permanent upward trajectory. For that reason, companies are doing all they can to implement technology that puts greater power into their workers' hands while simultaneously cutting expenses.
Today, 95% of logistics firms say they've taken at least some kind of action within the past 12 months to lower operating costs. That was down slightly from the 98% that responded similarly last year, but still in line with recent norms, according to the latest Warehouse/DC Operations Survey from Supply Chain Management Review. For nearly three-quarters of businesses, that means improving warehouse processes to increase efficiency, and more than half say they've also changed the layout of their warehouses.
Likewise, 50% of companies indicated they've tried to tackle inventory control issues, and 45% said they're improving their information technology, the report said. Nearly a quarter are also adding automation to their processes, something just 15% did last year, and none attempted in 2017. Perhaps not surprisingly, with all these positive changes becoming more common, a growing number of firms - 79% - plan to expand at least one aspect of their operations in the year ahead.
Tech plays its part
Part of the technological adoption that's becoming more common these days is worker tracking devices that keep careful tabs on where employees go within a facility, according to Bloomberg. This can be useful for tracking both safety - some trackers even keep tabs on ergonomics - and efficiency. While there are obvious concerns for logistics firms to consider when it comes to the implications of such surveillance, some companies can use the collected data to get a better handle on operational efficiency, rather than using it punitively against what the company might consider less productive workers.
"We can actually break it down by the second," Mike Honious, the chief operating officer for the Americas at a tracking tech firm, told the publication. "Then you apply the ergonomics data to the exact same timeline, and you can see the motions of the person bending, and what they're doing. Then all of a sudden from there you can look at, 'OK, is there an opportunity? Do we have a little bit of idle time? Was there some lifting that caused the operator to slow down?'"
Adoption wave coming?
It should come as no surprise that logistics firms large and small are seizing these kinds of opportunities when they identify their operational hurdles, and that's a trend that's expected to continue at a high rate for years to come. An industry study published by Report Buyer found global investment in warehouse management software is expected to grow at an average annual compound rate of 14% in the years ahead.
With all this in mind, warehouse managers certainly have a lot to consider. However, when they want to both attract and retain talent on an ongoing basis to maintain high levels of efficiency, they must start by offering stronger salaries and benefits packages.