5 tips for better shelving strategies in your warehouse
11/20/2019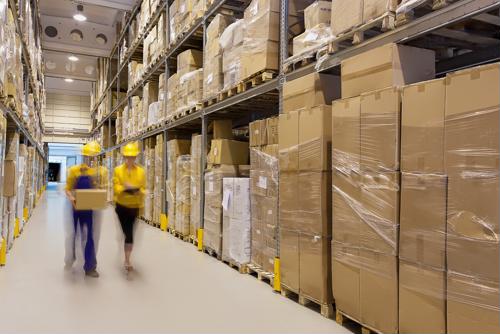 One of the best ways to optimize your warehouse operations overall is to reconsider your approach to storage. After all, you only have so much square footage on the floor, and if you're not making the most of your overhead space, you're probably not running as efficiently as you otherwise could.
With that in mind, the following tips should help you get a better handle on your shelving strategy and maximize not just of square footage, but cubic footage as well:
1) Give yourself plenty of space in the aisles
As you start to grow your shelving "up" rather than "out," you're far more likely to need heavy equipment to get items down from high shelves, according to Reno Forklift. For that reason, you have to make your aisles wide enough for these machines to get the job done while also leaving space for other employees - possibly also operating lifts and the like - to get by.
The good news is that with more use of space several feet or more above your current shelving, you won't have as much need to have separate shelves that take up floor space.
2) Inspect everything regularly
When shelves start to bear significantly heavier loads as your operation builds them up, they may be at greater risk of suffering some wear and tear, Reno Forklift added. If the metal shelving starts to buckle or weaken, that poses a danger not only to your employees, but also your inventory. As a consequence, carefully examining every inch of shelving on a regular basis to make sure it's all in good shape is a must.
3) Keep safety in mind
Indeed, when it comes to safety around higher shelves loaded up with more inventory, it makes sense to prioritize safety around them, according to Action Wholesale Products. That means simple things like ensuring items are placed appropriately far from the edge that they aren't at risk of falling off, that they're properly secured to the ground, that their known weight limits are clearly posted and understood, etc.
Simply put, just like any other aspect of your warehouse, employees need to know the proper approach to safety around new, larger shelving units through comprehensive training efforts.
4) Carefully plan all changes in advance
Any time you are rethinking your approach to storage space, it's vital that the job is not undertaken haphazardly, according to Camcode. In general, it will be a good idea to see just how much space you will need now, and how much you project you will need as your business grows and changes in the months or years ahead. That effort will typically require mapping out any changes to the layout of your warehouse, down to the inch, so there's no ambiguity about what has to be done throughout the transition process.
5) Separate popular products from those that move more slowly
When you're retooling your warehouse layout overall, it might also be wise to reassess how you store certain items, Camcode cautioned. Those that tend to move quickest out of your facilities should likely be kept closer to where workers are stationed, and stored closer to the ground. The items that are slower to move can be stored in less accessible places.