6 winter forklift safety tips
12/9/2019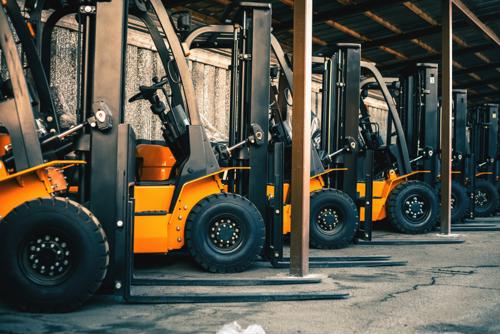 Winter weather is finally descending on many parts of the country, with frigid temperatures, icy pavement and snow accumulating in work areas at warehouses and other facilities. With that in mind, any organization that relies on a forklift to get jobs done outdoors at this time of year needs to take extra caution around this heavy equipment.
The following tips should help drivers and supervisors get a better handle on these issues as winter progresses:
1) Be aware of the current situation - and the forecast
Perhaps the most important aspect of forklift safety as winter arrives is knowing the current and near-term weather conditions in which workers and equipment will operate, according to EHS Safety News America. If the conditions in the parking lot are snowy, for example, that may require drivers to change their habits and methods for operating the vehicle, and if there is an ice storm in the forecast, that may lead you to cancel planned work altogether.
2) Add the right accessories
If you will be sending employees out in these conditions to work with a forklift, the machines should have the proper equipment, EHS added. That could be as simple as adding tire chains to get better traction in snowy or icy conditions, or a covering so workers and the components themselves aren't exposed to the elements.
3) Wear the right gear
It should go without saying that workers need to dress appropriately in any conditions, but when conditions are inclement, it's even more important, according to the National Forklift Exchange. That means making sure they're wearing appropriate footwear, gloves, cold-weather jackets, face protection and so on to reduce any risks associated with frigid weather.
4) Keep an eye out for warning signs
When temperatures drop and winter precipitation starts to accumulate, workers and equipment alike should be monitored closely for signs of stress and not allowed to spend too much time outside, the National Forklift Exchange cautioned. Both should come inside on a regular basis to make sure everything is working as it should.
5) Remain alert
Things can certainly change quickly in winter, and that's true for both the weather and the general conditions in outdoor work spaces, according to Cisco-Eagle. For that reason, forklift operators should keep their heads up to make sure an area that was safe an hour earlier is still in the same shape, and react appropriately if that's not the case.
Along similar lines, workers should also make sure to change their behavior around forklifts when conditions change so accident risk is minimized.
6) Take it slow
Because slippery or unpredictable surfaces are more common in winter, forklift drivers should take their foot off the gas pedal more often and make sure they're using the machines at a safe operating speed, Cisco-Eagle said. This reduces a number of potential risks and helps ensure all involved - including the forklifts themselves - aren't in physical danger when winter weather turns nasty.