6 ways warehouses can cut costs
12/30/2019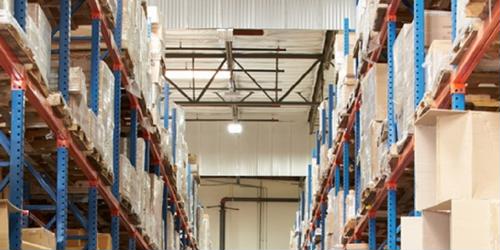 These days, many businesses operate on thin margins, and even small decisions for any warehouse can be the difference between a great quarter and one where you fall short of expectations. For that reason, managers should always be on the lookout for ways to cut costs - or keep them down on an ongoing basis.
These six steps could help you save a lot of money on operational costs over time, and that would allow you to reinvest in other areas of your business moving forward:
1) Get a better handle on storage space
One of the biggest problems warehouses face is that they often run out of shelf space and have to improvise with storage of various important products or materials, according to Just Save. That can make it more difficult to find items your pickers and packers need to expedite orders, slowing efficiency and costing you more to do the same amount of work. For that reason, it's wise to take better advantage of cubic footage by building taller shelving.
2) Invest in training
While this might sound like a step that actually costs more money, the return on investment for worker training is significant, Just Save added. That's because well-trained workers are more effective and make better use of their time on an ongoing basis, ensuring you get more production per hour and are always ready to tackle any new challenges that may arise.
3) Reduce energy use
It should come as no surprise that warehouses both large and small use a lot of energy to power them, as well as provide heat and cooling at appropriate times of year, according to the Adaptalift Group. For that reason, you should always strive to assess how and why you use energy on an ongoing basis. If you find even one small inefficiency - in your lighting, HVAC systems, etc. - you may be able to address it effectively and save a lot of money.
4) Rearrange your layout
You may believe that, for various reasons, the layout of your warehouse is unable to change, but that's just not the case, the Adaptalift Group advised. If you find your pickers are taking a long time to track down the items they need, or that you've been storing popular items farther away from the picking area, it might be wise to rethink those decisions and rearrange for efficiency.
5) Focus on the right KPIs
There are many key performance indicators in logistics and they can provide critical insights into various aspects of your operations - as long as you track them, according to Cerasis. That effort may require you to look at what you currently use to evaluate the inputs that lead to success - flow-through rates, worker efficiency, order turnaround times, etc. - so that you can get a better handle on the outputs, like revenues and profits.
6) Improve your returns processes
Many logistics firms face inefficiencies that arise due to returns, both because these products have to be re-circulated into their inventory systems and new items have to be sent out, Cerasis noted. By examining how you handle these issues, you may be able to more effectively identify areas where problems arise and develop actionable long-term solutions.