Warehousing is booming nationwide
3/8/2019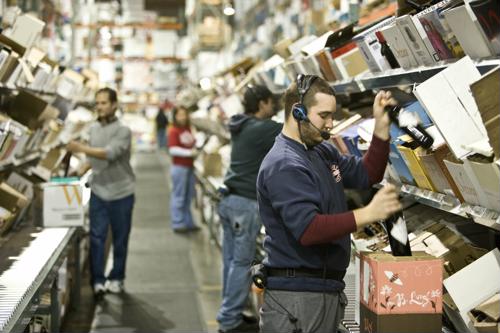 The rate at which the logistics industry is growing in the age of e-commerce has been high for years, but it continues to make gains even as more warehouses go up across the country, and particularly in places where the sector already has a strong foothold. Indeed, the vast majority of all of the largest industrial leasing deals in the country last year saw businesses moving to scoop up space specifically for warehousing, a trend that is likely to continue for some time to come.
Among the 100 largest leases in the industrial and logistics industries in 2018, deals to further e-commerce efforts made up 61 of them, far surpassing the agreements related to any other kind of major sectors, according to Logistics Management and CBRE. That was up from 52 of the 100 largest deals going to e-commerce enterprises in 2017. Moreover, it appears that the space requirements for these efforts are on the rise; the average size of such a space was more than 1 million square feet last year, up from about 830,000 square feet on an annual basis.
No surprises
While those 100 deals were spread across 32 different commercial real estate markets nationwide, it appears that the busiest were once again the places where e-commerce logistics already have a firm foothold, like California's Inland Empire (where 20 of the 100 largest leases were signed) and Pennsylvania's Lehigh Valley (11), the report said. Interestingly, about one-third of all such deals happened in states west of the Rocky Mountains, suggesting this may be an area for future growth.
"These figures show there still is a lot of momentum behind e-commerce uses in U.S. warehouse leasing, despite concerns that the sector's expansion may be reaching its later stages," David Egan, CBRE's Global Head of Industrial & Logistics Research, told Logistics Management. "We expect this type of leasing momentum to continue in 2019."
Another big market in terms of warehouse deals appears to be the part of Illinois known as Chicagoland, according to Crain's Chicago Business. The area in and around the Windy City has seen its industrial real estate vacancy rate slip for the fifth quarter in a row, to just 6.3 percent, the lowest in more than a decade, while companies scooped up some 3.3 million square feet in 2018. That, in turn, has led to rising rents for warehouses in particular, even as more developers are putting up buildings on speculation.
People coming aboard
At the same time, it seems that there aren't many places where people are shying away from work in the e-commerce and warehousing sector, according to HR Dive. There is data that suggests warehousing jobs are attractive to workers who are taking on extra hours besides their day jobs - in the so-called gig economy - to help make ends meet, and among those people, the logistics sector proves surprisingly attractive, in no small part due to the high pay all this demand for space, and thus labor, brings with it.
Indeed, increasing competition among warehousing businesses for willing workers is likely to lead to the need for higher pay and better benefits in 2019 and beyond. Getting out in front of the train could help to attract and retain talent on an ongoing basis.