Warehouse construction business is booming
3/28/2019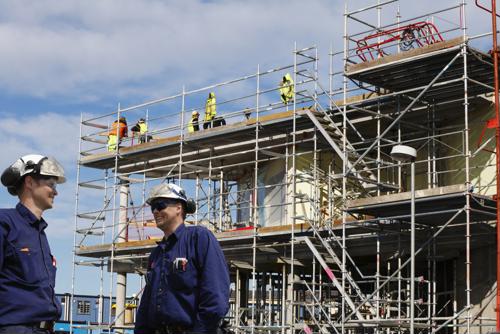 Across the U.S., demand for warehousing space spurred by e-commerce growth continues to reach new, higher levels all the time. The fact is that there's seemingly no ceiling in sight for consumers' interest in online shopping, and retailers keep pushing the envelope in terms of cutting turnaround times, so more logistics warehouse construction is now underway nationwide.
Over the course of the last few years, the number of commercial warehouse construction efforts nationwide has skyrocketed, and with it has come larger footprints for those projects, according to new statistics from Dodge Data and Analytics. As recently as 2016, there were fewer than 30 major warehouse construction starts in the U.S. with the overall amount of square footage totaling less than 40 million.
But by last year, the number of new projects had ballooned to nearly 50, with square footage pushing closer to 70 million, the report said. The rate of new starts took a small step back in 2018 but remained nonetheless well above pre-2017 levels, and the size of these projects continued to grow. In January 2019 alone - the latest month for which full data is available - construction on four new warehouses with footprints of at least 1 million square feet broke ground.
One area dealing with an influx
This kind of activity has been particularly prevalent in Eastern Pennsylvania, which is within a day's drive of the vast majority of population centers in the U.S. and Canada, according to the Allentown Morning Call. In fact, construction efforts in the Lehigh Valley region of the Keystone State have become such a big issue that Allen Township recently granted companies special approval to continue their work on Sundays.
Harsh winter weather in the area delayed one such project to the point that it fell well behind schedule, so local leaders are allowing for additional catch-up time on some projects, the report said. Previously, it was only allowed to do construction work in the area from 7 a.m. to 7 p.m. Monday through Saturday, but a shortened window of 8 a.m. to 4 p.m. on Sundays has been added, at least on an as-needed basis.
In the Midwest
Of course, the Eastern Seaboard isn't the only place where warehouses are so in demand that companies can afford to put them up on speculation, according to RE Journals. In Elk Grove Village, Illinois - near O'Hare International Airport in Chicago - a company just put up a smaller project measuring more than 79,000 square feet, entirely on spec, and many in the local industry feel jobs big, small and in-between will only continue to proliferate.
"This is yet another sign that Chicago industrial properties remain strong," Mark Augustyn, chief operating officer of Principle Construction, told the site. "There is high demand for high quality, mid-size buildings in infill markets and we aim to help fulfill that demand."
When new warehousing projects are starting to staff up, it's vital for companies to make sure they're offering high pay and excellent benefits, because competition for qualified employees remains tight in today's low-unemployment job market.