Addressing tech disruption and the logistics skills gap
4/16/2019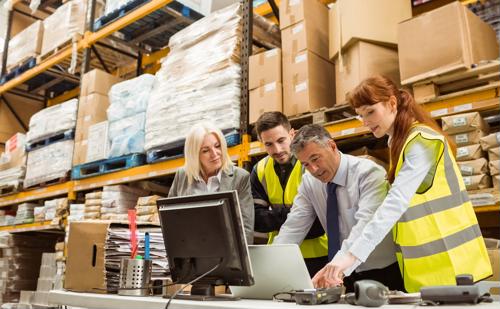 People in just about every industry have been hearing about the growing skills gap for some time. After all, with the economy booming and the national unemployment rate still hovering near all-time lows, many companies may have jobs to fill and not enough talented workers to fill them. That may be particularly true in the logistics sector, which is simultaneously staffing up and modernizing at a rapid pace.
Currently, there are about 1.4 million open jobs across the U.S. and no one is as qualified to take them as prospective employers would like. That hurts the companies offering those jobs in a number of ways. First and foremost, of course, is the fact that those businesses aren't operating at peak capacity because they don't have enough people on staff to meet demand from customers or clients.
At the same time, hiring managers now spend an average of 13 hours per week - almost a third of their full 40-hour work week - trying to find more qualified candidates when they could be doing other tasks. That doesn't include the hours those professionals will have to put in for the actual hiring process, which takes an average of over a month. Moreover, in some cases, 90 percent of candidates withdraw themselves from the application process because they find it frustrating.
The direct application in logistics
More companies are certainly taking different approaches to addressing the skills gap to meet their needs, including adopting cutting-edge technologies like virtual reality to train new hires or "skill up" long-standing hires so they know how to more effectively do their jobs. With broad tech disruption of the industry now looming, using other forms of technology to make sure workers know how to navigate a workplace with automation and put it to the best possible use.
Training sessions held at the local level - run by government agencies, trade schools, colleges or universities and companies themselves - may help connect more potential workers with the companies who need them, and equip those potential hires with all the skills necessary to meet the logistics need of the present and future.
Where to begin
When logistics companies are trying to overcome the skills gap, they need to make sure they have well-considered, codified plans to onboard workers and develop talent on an ongoing basis. Overcoming the skills gap is not a "one and done" proposition, and company decision makers need to ensure they are reviewing the effectiveness of their strategies regularly. That process should include developing new roles for workers as technologies emerge and allow for greater collaboration from the shop floor to the board room.
To learn more about the growing skills gap and technology disruption, please download our whitepaper, titled "Technology Disruption: Leading the Way to Smarter Recruitment." The document contains vital insights from industry expert Hugo Malan, the chief operating officer of EmployBridge, Prologistix' parent company. These may help logistics firms address the problems of the present and future head-on.