6 ways to motivate warehouse employees
6/17/2019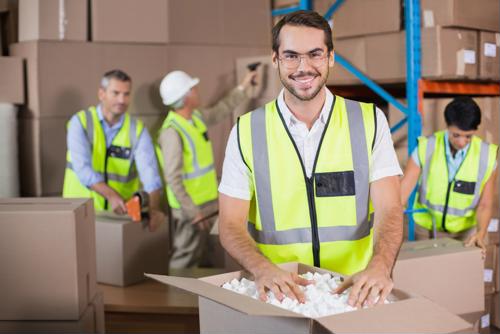 Day-to-day work in any warehouse can be a bit of a physical and mental grind, which sometimes results in employees being unmotivated or disengaged. That's not good news for anyone, as workers who aren't engaged are more likely to make dangerous mistakes, and simultaneously cost their companies lots of money in terms of lost efficiency.
With that in mind, warehouse leaders need to do more to keep their workers' motivation up on a daily basis and ensuring they're more engaged with the entire process. Here are six tips to help them do so:
1) Be a better leader
When it comes to workers staying engaged, the onus starts at the top, according to Inc. magazine. The best business leaders are the ones who have something of an open door policy so workers can come to them with concerns or questions, and without fear of being viewed negatively. That may be particularly true when they have concerns about warehouse safety issues.
2) Encourage collaboration and community
Workers are more likely to be happy coming to work when they enjoy their coworkers' company and have a common goal they can all work toward on an ongoing basis, Inc. advised. With that in mind, it's important for warehouses to set time aside for team-building events and other things that will help them feel more like they're part of a community.
3) Keep the work environment positive
Any company should want their employees to be happy to show up for work more often than not, and a culture of accountability is a must, according to HR Technologist. However, that doesn't mean that companies should be punitive when things go wrong. When workers are worried about "getting in trouble," they're more likely to see the job as a drudgery, so even leaders should accept that mistakes happen and don't have to be treated as a big deal unless appropriate.
4) Offer opportunities for advancement
When people first come to your warehousing business, they may start with entry-level jobs on the loading dock or walking the floor as pickers and packers, but that often isn't their end goal, according to Square. When warehouses provide lots of opportunities for employees to further their education and a fair chance to be considered for promotions on a regular basis (if they want them), workers are more likely to feel they're being valued.
5) Provide rewards and recognition
When employees work hard to meet important metrics on a weekly, monthly or quarterly basis - putting in a lot of hard hours as the deadline approaches - that should be recognized, Square noted. Whether it's through rewards for great employees or teams, incentivizing good, hard work is always the right idea.
6) Better pay and benefits
Along similar lines, warehousing businesses that want to attract and retain workers, in addition to simply keeping them engaged and motivated, would be wise to provide higher salaries and stronger benefits packages. Doing so helps them remain competitive in today's hot job market, when qualified workers may be harder to come by.