5 tips for better warehouse organization
7/17/2019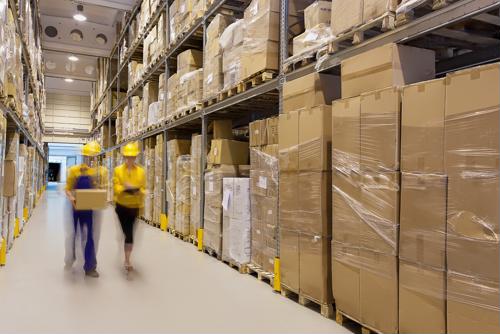 A big part of keeping any warehouse operation running as smoothly as possible is having an overarching plan to keep it organized and following that plan to the letter. However, if you don't have such a plan in place right now, your facility might be more disorganized than you even realize.
With that in mind, the following are five ways you can get your warehouse operation up to speed so that it runs at peak efficiency on an ongoing basis:
1) Keep it clean
One of the biggest issues for many warehouses is clutter seems to build up slowly over time and, while it might not seem like a big deal to leave one box laying around here or there, debris adds up quickly, according to Camcode. Consequently, it's not enough to have weekly or monthly "clean-up days" and to instead uphold a policy of cleaning up any messes when they're first noticed. An organized warehouse is everyone's responsibility.
2) Make your inventory lean
Among the notable reasons that many warehouses have an ever-increasing amount of clutter to deal with is they buy too much inventory and start running out of places to put it, Camcode advised. These mistakes can happen for a litany of reasons, some of them through no fault of a manager's own, but the consequences persist. If you can get a better handle of how much inventory you bring in versus ship out, this problem starts to go away quickly and frees up space.
3) Reconsider the floor plan
The way your warehouse operations work have likely changed a lot in recent years, but all too often, your floor plans don't follow suit, according to Emerge. For that reason, you might want to think about ways you can improve your warehouse's layout so that pickers, packers and everyone else can get to their destination as quickly and easily as possible.
4) Designate work areas
When reconsidering your warehouse layout, it's also a good idea to think of places where you can designate certain kinds of work, Emerge added. While some of this occurs naturally - packing up products will usually take place near the loading dock, for instance - it's usually smart to have designated spaces for certain types of work so that there's no ambiguity about where certain tasks should be carried out. That also help you keep your various equipment organized by the tasks for which it will be used.
5) Review regularly
It's not just vital to make sure your warehouse gets up to speed on these efforts once, but also to consider how those changes have gone and what more needs to be done on a regular basis, according to Dear Systems. If you are able to consistently revisit the work you've done to improve efficiency, you can continually make sure you're improving on what you've already improved, so you're always striving for peak efficiency from top to bottom. That, in turn, helps ensure a strong bottom line going forward.