The rise of Industry 4.0 in manufacturing
7/29/2019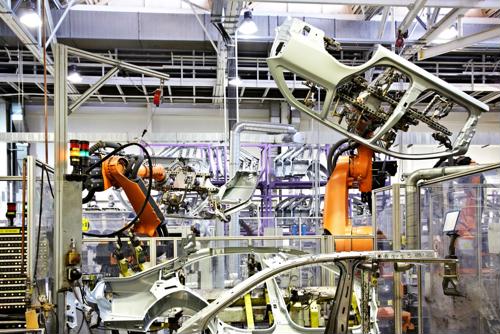 New digital technology is transforming the manufacturing industry, making it easier than ever to analyze and gather information across various machines. This, in turn, creates faster and more efficient processes that allow businesses to make high-quality materials at lower costs. The rise of this digital technology, known as Industry 4.0, is set to increase productivity and profitability, therefore creating what Boston Consulting Group named a "manufacturing revolution."
There are roughly nine different technologies that support industrial production, all serving under the umbrella term Industry 4.0:
Big data and analytics
This process involves the collection and evaluation of information from various sources, including production equipment and enterprise management systems. This technology is becoming a standard, as it supports decision-making in real time.
Internet of Things
The Internet of Things has been in mainstream use for several years, giving machines the ability to interact with each other and with the people controlling them. This creates a process in which decision-making occurs instantly.
Horizontal and vertical system integration
With a more analytical process than before, businesses can work more vertically and horizontally across organizations and teams.
Simulations
Manufacturing plants are expected to use simulations more frequently than they have in the past to test products and machines. These simulations allow for trial-and-error, prompting businesses to try new processes without dealing with lost materials - and revenue - associated with real-life trials.
Cybersecurity
Corporate offices aren't the only businesses at risk of cyberattacks. As organizations are relying on technology and automation more than ever, there is a critical need to adopt security measures that prevent the interference of external threats.
AI robots
Robots seem like a technology of a science-fiction future. However, robots are becoming commonplace in workplaces, conducting operations alongside humans on a regular basis. According to the International Federation of Robotics, there will be three million robots in use by 2020. Even though robots will not make essential manufacturing jobs obsolete in the foreseeable future, these gadgets cost less than human workers and nowadays have the intelligence to learn from humans conducting similar business.
The cloud
Data sharing across multiple locations and operations is crucial, especially when overseeing large-scale manufacturing tasks. Even though the cloud is effective in and of itself, it will undergo a transformation in the next few years as the performance of these technologies will improve drastically, speeding up reaction times by milliseconds. This doesn't sound like a significant amount of time saved, but we can assure you it can make a significant difference in an Industry 4.0-dominated business, in which connectedness in real time is directly related to a business's bottom line.
Additive manufacturing
Businesses that are adopting 3-D printing and other types of additive manufacturing methods are using these procedures to produce prototypes. Additionally, additive manufacturing can produce customized products in small batches.
Augmented reality
Last but not least, this process supports several different services in Industry 4.0, including instructions for repairing machines. Although AR is still new in the manufacturing sector, businesses will be able to use it to improve employees' decision-making and working procedures.
When businesses adopt these new technologies, they have the opportunity to improve their digital manufacturing methods, thus resulting in increased productivity and decreased expenses.