5 ways to increase efficiency in your warehouse
1/7/2020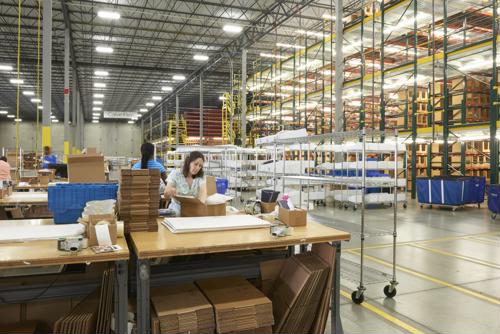 One of the big projects any warehouse manager should occasionally try to tackle is evaluating all in-house processes to see what's working - and what isn't. It's a fact of life that even in very efficient operations, there are details that start to slip over time. Companies would be wise to identify those issues and correct them on occasion.
The more that can be done to maximize warehouse efficiency, the better off employees and the company will be going forward, so taking the following tips under advisement is simply a good idea:
1) Reorganize to maximize flow
Among the biggest changes your warehouse can make on an ongoing basis is to continually evaluate which of the products your pickers deal with that are moving into and out of their facilities the quickest, according to Supply Chain Game Changer. As a general rule, the fastest movers should be positioned as close to picking and packing and stations as possible, and given that your most popular items will likely change over time, reorganizing your shelving around this idea is a must.
2) Collect and interpret as much data as you can
Modern warehouse operations should have at least some aspects of their daily work automated so that they can free up workers for other duties, Supply Chain Game Changer said. To that end, one of the easiest changes is automating inventory data collection and organization, so managers and employees alike can quickly and easily pull vital operational data so they can make the best possible decisions.
3) Make every employee's duties perfectly clear
There should never be any confusion as to what a person's role is at any given time, but it's natural that misunderstandings can crop up on occasion, especially if you are only giving them verbal directives, according to My Total Retail. For that reason, it's important to make sure everyone clearly understands what they're being asked to do, and perhaps impart some written directives so nothing gets lost in translation.
4) Improve communication
Part and parcel with doing a better job of making sure messages about work come across clearly for employees, it's also important to apply the same rigor to other aspects of your operations, My Total Retail advised. When there is a larger team effort around clearer communication - not only from the top down, but from employees passing on questions, concerns and so on to their supervisors - everyone benefits.
5) Invest in the right tech
If it has been a while since you made significant tech investments for your warehouse operations, the start of the new year is a great time to assess your options, according to Veridian. After all, new tech rolls out all the time and many of these offerings may have great practical applications to your operations, which you perhaps didn't even realize were available. The more you can do to uncover the best options available for your organization's unique needs, the better off your company will be going forward.