5 tips for safer forklift operation
1/21/2020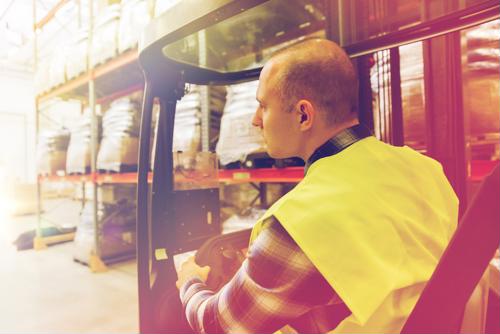 Forklifts have become an essential part of many warehouses because of their ease of use and utility in moving large, heavy pallets from Point A to Point B in a flash. However, just like any other heavy equipment, they come with some serious safety risks - especially if they are not operated carefully by people who are certified to drive them.
The following tips will help any certified forklift operator keep a better safety record when using these incredibly useful machines:
1) Don't block your own vision
One common misstep is for forklift drivers to load up huge, tall pallets and try to transport them, to the point where operators can make it difficult - or even impossible - to see what's going on in front of them, according to HGV Training. You should never make this mistake, which poses danger for both you and those around you. Instead, either make sure your load is short enough that you can see in front of you easily or, failing that, drive in reverse so you get the full view of your path.
2) Keep your head on a swivel
Because there's so much activity in your warehouse at any given time, you're likely to cross paths with someone or something that could be a potential obstacle, HGV Training added. For that reason, you need to be alert behind the wheel of your forklift, and make sure you're letting coworkers know you're coming. Diverting your attention for even a second can lead to an accident, so avoid distractions at all costs.
3) Inspect before every use
You never want to be in a situation where your forklift fails during operation, according to Certify Me. Whether that's because its battery is out of juice, a tire breaks down or some issue arises with the engine, such problems are inconvenient at best, and potentially catastrophic at worst. With that in mind, give your forklift a careful once-over, and address any potential problems you notice before you climb aboard.
4) Take it slow
While everyone wants to get the job done quickly - and correctly - there's no need to drive the forklift at an unsafe speed, Certify Me said. Operating it nice and slow will help you avoid any accidents, whether those are collisions or situations where you pitch forward when you have to apply the brakes quickly. To help combat the latter problem, make sure your load is tilted backward at a slight angle.
5) Ask for help when you think you'll need it
While there are plenty of jobs a forklift will help you tackle there are also situations where you might need help, according to Toyota-Lift of Minnesota. Whether that's as simple as getting someone to aid in properly loading the pallet or helping direct you through tight areas or around corners, you should always be willing to ask a coworker for some assistance. Sometimes, doing it on your own creates a potentially dangerous situation - so it's better to just avoid it.