7 ways to keep your workers motivated
11/16/2020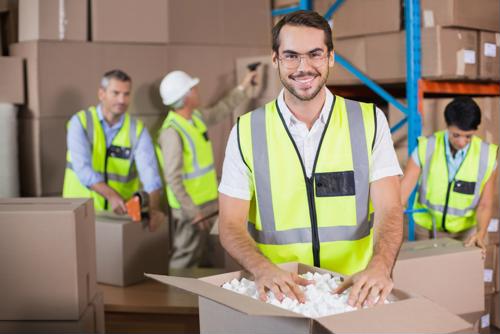 Especially around the end of the year, activity at warehouses and other logistics companies ramps up significantly, and managers need their workers to remain motivated throughout these busy weeks. Of course, that kind of work is often a physical and mental grind, and it's not always easy for people to operate at 100% capacity, even if the situation demands it.
So what can managers do to keep workers motivated without increasing burnout and frustration? The following tips should help get them there:
1) Be more supportive
First and foremost, you need to recognize that this is a tough time for people in the logistics field, even without the unchecked spread of the pandemic, and sometimes, workers just aren't going to be "feeling it" at work, according to HR Technologist. Obviously, they still need to do their job, but you should also provide support and understanding whenever possible.
2) Encourage individual initiative
Some people tend to do their best work when they're coloring outside the lines somewhat, and as a consequence, you would be wise to let some people go outside the bounds of normal policies if they prove that it helps them get the job done, HR Technologist added. Most often, there's no one perfect way to do this kind of work, and whatever allows employees to be efficient is something you should allow.
3) Build teamwork and a strong culture
It's always a good idea to have a team that gets along and props each other up during trying times, according to Square. Whatever you can do to encourage that kind of work atmosphere is going to be vital to your success, not only during the holidays, but also well beyond.
4) Recognize (and reward) the best work
When workers do a good job, you shouldn't just let it pass without recognition, Square advised. You could just say, "Employee X did a great job last week," in a company-wide email, but you can also reward that great work with a small token of your appreciation.
5) Get feedback
In much the same way you expect to be able to provide feedback to your employees throughout the course of their normal work, you should solicit the same from them, according to Inc., magazine. After all, no one knows your operations inside and out like these workers, and finding out if there's anything you might be able to do better collectively.
6) Keep people busy
Obviously there's not going to be much downtime for your employees throughout the holiday season, but if they don't have something meaningful to work on, boredom and a loss of motivation can easily set in, Inc., said. For that reason, there shouldn't be much time at all (outside normal breaks) that workers don't have something to do.
7) Provide better compensation
Finally, if you really want to keep workers motivated and engaged, a critical aspect of that is giving them the pay and benefits they deserve. Scrimping on worker salaries in particular is a great way to see increased turnover, especially if the work is physically and mentally demanding.