Demand for warehouse space keeps rising
2/3/2020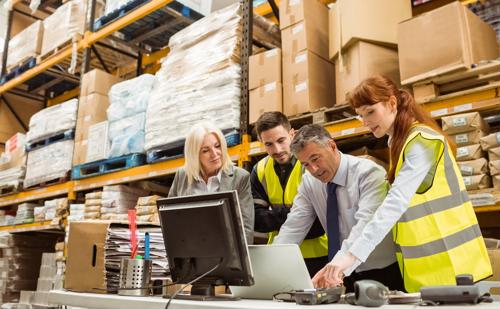 Across the U.S., demand from logistics companies for modern warehouse space has surged in recent years, leading to a huge boom in construction of such industrial buildings. Often, these properties were scooped up almost as soon as they were put on the market, but that trend could wind down in the year ahead as builders seem to have finally reached a sort of equilibrium with the sector as a whole.
The overall level of industrial space in the U.S. is expected to reach some 573.4 million square feet from 2020 through 2021, but the overall vacancy rate is likely to remain unchanged at about 5%, according to the latest North American Industrial Outlook from Cushman & Wakefield. It's expected that nearly 460 million square feet of space will be absorbed over this time period, even as rents rise an estimated 6.8% and may reach an all-time high of $6.95 per square foot by the end of next year.
"Economic indicators, with strong links to industrial fundamentals, point to continued growth in 2020 and 2021," the authors of the report wrote. "Industrial has been the investors' darling in recent years, and there is no indication of this love affair coming to an end any time soon. Over the next couple of years, we expect it to remain one of the leading product types to watch."
A changing situation
At the end of last year, the national vacancy rate held steady on an annual basis at 4.8%, and rents ticked up 2.4% to $6.51 per square foot, according to Cushman & Wakefield's U.S. National Marketbeat for the Industrial sector in Q4 2019. At that point, estimates showed that about 321.1 million square feet of warehousing and industrial space were under construction.
This came as the fourth quarter in particular was a strong one for the industry; the absorption rate of 68.8 million square feet was the largest in any one quarter seen over the course of 2019, the report said. In all, absorption for the calendar year cleared 200 million square feet - surpassing it by almost 34 million - for the sixth year in a row. Overall, supply increased 7% on an annual basis, rising to 307.8 million square feet.
Who's driving it?
While demand is often seen as largely coming from e-commerce giants that are trying to establish footprints in the last-mile shipping realm in particular, that may not quite be the case anymore, according to Multichannel Merchant. Data from CBRE suggests grocery companies are making major gains here, with 13 of the 100 largest warehouse leases in the country last year coming in the food and beverage sector. That was up from nine at the end of 2019. Meanwhile, the size of those spaces rose from 8.8 million square feet to 13 million.
The company noted that this was largely due to the fact that sales of food products are spiking nationwide, and that trend isn't likely to reverse course any time soon, the report said.
With all this in mind, those in the logistics sector should still be on the lookout for changes to their local warehousing landscapes, especially as it could end up having a major impact on demand for talent.