4 ways to make your warehouse cleaner
2/11/2020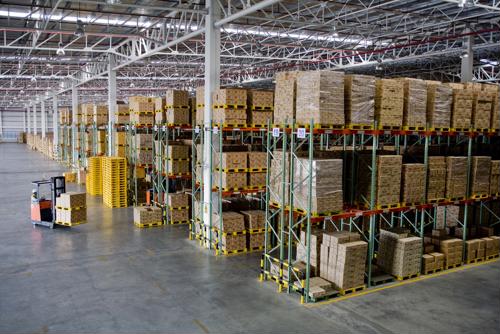 Keeping a warehouse clean is a big task. With so much floor space and so many nooks and crannies where dirt and junk can build up, staying on top of total cleanliness is no easy feat - but that doesn't mean it isn't important. With that in mind, you need to make sure everyone under your roof has the right mindset about cleaning and knows how to tackle everything that might be required of them.
The following tips will help you get on the right track when it comes to keeping your warehouse even a little bit cleaner:
1) Make sure everyone has the necessary items to do regular cleaning
It's difficult to keep a warehouse clean if people don't have what they need to do the job at hand, according to the Sanford Company. For instance, you will need to invest in cleaning tools like high-quality mops and brooms, as well as the best cleaning products like glass cleaner and floor sanitizer. Based on the stuff you actually keep in your warehouse, you may need specialized products as well.
In addition to having the right tools for any given cleaning job, make sure workers are properly trained for how to complete these tasks too. Making cleaning training a regular part of your overall approach will likely go a long way toward ensuring success.
2) Enforce a policy of "clean as you go"
One of the biggest issues many organizations face when it comes to keeping large facilities clean is people passing off tasks as "someone else's problem," the Sanford Company noted. This is no way to run an operation - or at least, an operation with a strong record of cleanliness - so it's important for everyone from entry-level employees to long-time managers to make sure they're doing the job of cleaning up when it's necessary, not just when it's convenient.
3) Make sure you only get as much inventory as is needed
Another big factor that can lead to messes overall is when you start running out of space in your warehouse, according to DJ Products. When that happens, many issues become decisions around, "Where can we put this?" rather than, "Where would it be ideal for us to put this?" For that reason, you may need to get a better handle on your inventory management if you want to stick to your cleaning goals. When companies are able to keep a smaller amount of inventory flowing through them, rather than sitting on shelves collecting dust, everything is easier to manage.
4) Make a schedule and stick to it
In addition to clean-as-you-go, ensure various parts of your facility are given a deeper clean on a rotating basis, according to Bortek Industries. At least once a week, one section of your warehouse should get some extra attention paid to it, so nothing goes unaddressed for too long. That way, you can continually tackle both big and small cleaning issues that otherwise might go unaddressed for longer than you want.