6 steps to warehouse safety
2/12/2020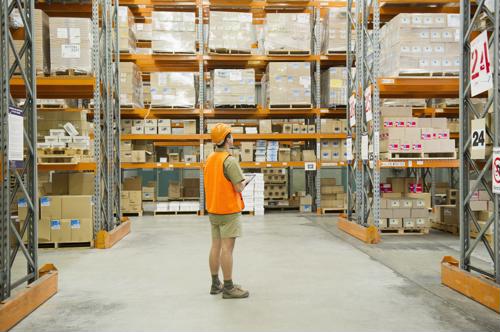 Warehouse safety should be of the utmost importance to any logistics firm. If facilities aren't doing everything they can to keep accidents and injuries minimized, they're simply not operating efficiently. Even one such incident can set a company's processes back hours or days, on top of the fact that you never want to see an employee get hurt on the job.
With that in mind, the following tips should help any organization get a better handle on safety protocols and practices going forward:
1) Keep the exits clear
Ensuring all areas of the warehouse remain relatively tidy at all times is just good practice, but there can't be any room for disarray where exits are concerned, according to EHS Today. That means no leaning or stacking anything against the doors, keeping the area immediately around any exits nice and clear, and generally making sure that if something goes wrong, there aren't going to be any hazards that prevent employees from safely using that door.
2) Design everything to reduce ergonomic issues
One of the biggest safety risks for any warehouse is that workers will get repetitive stress injuries from walking, turning, lifting and stretching dozens of times per day, EHS Today added. For that reason, it's critical that every process be designed with those realities in mind, and your warehouse should be arranged ergonomically as well - such as with the heaviest items placed on shelves that do not require bending or reaching.
3) Take special care around loading bays and docks
Any expert will tell you that a large percentage of warehouse injuries happen on loading docks, both for ergonomic reasons (lots of lifting and stretching there) and because there can be a lot of heavy equipment moving in every direction, according to Logiwa. As a result, redoubling efforts to increase awareness of the risks that come with working on the loading dock - and train for the best ways to avoid them - is is always a good idea.
4) Train with forklift safety in mind
Likewise, it's critical to make sure your employees are aware of the risks related to working around heavy machinery like forklifts and pallet jacks no matter where they are in the warehouse, Logiwa cautioned. While these devices are critical to efficiency and organizational success, they also pose unique risks, which must be accounted for in any safety training initiative.
5) Make sure workers know how to properly store everything
One last training issue relates back to how employees put items away in your warehouse, according to Industrial Safety & Hygiene News. Leaving them precariously perched near the edge of a shelf or standing near a heavily trafficked area can pose some serious risks for coworkers. Teaching best practices around avoiding those issues can go a long way.
6) Inspect and communicate
Companies should always have a few people in charge of regular safety inspections to make sure everything is going as planned, and to communicate effectively with workers when they are not, Industrial Safety & Hygiene News advised. That way, everyone is clear on what needs to be done better and how best to achieve it.