5 steps to improve your logistics management
2/25/2020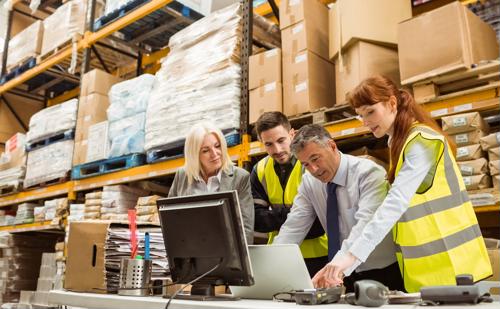 Logistics operations can always become sleeker and more effective, but there is often a big gap between what's needed and what's immediately possible. For that reason, companies need to take a more holistic look at their operations to tackle the real inefficiencies that hamper their efforts.
The following suggestions may help iron out those kinks and allow businesses to streamline many of their processes.
1) Encourage communication and teamwork
Among the biggest ways in which inefficiencies can come into your processes overall is when one hand just doesn't know what the other is doing, according to Supply Chain Game Changer. If you don't have transparency between departments, you're likely leaving a lot of value on the table. Encouraging more collaboration and communication will help sort out lingering issues and bring your entire organization to a higher level.
2) Keep customers and partners in the loop
Just like you expect your employees to do a better job of communicating with each other, you need to hold yourself to the same ideals, Supply Chain Game Changer added. Setting a better standard for dealing with customers and shipping partners alike - on both sides of the supply chain - will help improve your relationships. That way, if things do go wrong, you've built up some goodwill and you can simultaneously expect more effective communication coming from them as well.
3) Understand - and train for - all employees' roles
Managers would be wise to make sure all employees get regular training to keep them as effective as possible, according to Global Trade Magazine. However, if the training they receive doesn't really pertain to their current daily tasks, it's a waste of resources for the company and a waste of time for those employees. Instead, try to target training directly at what people need to succeed, so everyone knows what's expected of them and can continually improve in their roles.
4) Utilize tech as needed
Logistics firms should constantly be on the lookout for the latest and greatest technology to aid your employees in shuttling every item through your facility as quickly and easily as possible, Global Trade Magazine noted. The more you can do to unlock actionable data from your various processes, the better off you will be in identifying kinks or hiccups that naturally crop up. Once you have that information, you can also use technology to address those issues so everything flows just a little bit more smoothly.
5) Have a stronger plan for recruiting
Finally, when it comes to efficiency, you need to have a plan in place to identify when you need to hire more people and then get those new employees onboard and up to speed as quickly as possible, according to Monster. This isn't always easy, but it is vital to ongoing logistics success. Perhaps the best way to begin building your brand as a great employer is to offer top-notch salary and benefits to incoming workers and those who have been on the payroll for some time.