6 steps to improve organization in your facility
4/6/2020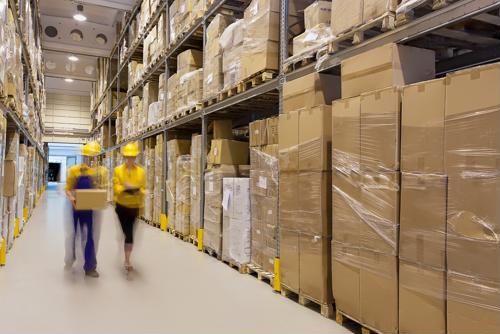 When you're running a warehouse operation, optimizing efficiency is the key to getting ahead in the industry. Of course, you likely know already that such efforts are far more easily said than done, and there always seems to be a little hitch in your processes that can arise at unfortunate moments.
With that in mind, it's a good idea to make sure you are constantly reassessing where you stand and implementing the following changes to your operation where they're needed:
1) Change your floor plan
Over time, your business will grow and change, and the layout of your warehouse has to change with it, according to Kardex Remstar. That may occasionally mean shifting where shelving is placed, where workers complete picking and packing, what kinds of equipment you make space for and so on. If you start to notice processing times are drag, it may be time to change things up.
2) Put up more signs to direct traffic
Whether you're changing the layout for the first time in years or just bringing more people aboard as you grow, it's important to make sure signage directs workers where they need to go as efficiently as possible, Kardex Remstar advised. That could include signs posted at eye level, but also striped lines on the ground that people can follow to appropriate parts of the warehouse for a given task.
3) Keep your most popular items closest to pickers and packers
As your business evolves, your offerings to customers or business partners will too - and so will the products, according to Dear Systems. For that reason, you should strive to make sure those most in-demand items are also closest to your pickers and packers. Doing so reduces the amount of time between receiving an order, picking, packing and getting it out the door by a few seconds here or there, but on aggregate, it's a huge efficiency boost.
4) Clean often
Beyond just issues of efficiency, or your employees' safety, keeping your facility tidy is just good business practice, Dear Systems said. When floors are clear of dust, debris or liquids, it creates an overall better working environment that helps employees stay more engaged and on-task.
5) Think about your employees' processes
Just like you will occasionally need to reconsider the layout of your warehouse, you might also need to think about how your employees do their jobs on a daily basis and see if there are any areas for improvement, according to Emerge. Engaging with workers on what is going well in their work, and what isn't, may help you find new areas to deal with, boosting both operational efficiency and employee satisfaction.
6) Bolster shipping and receiving
One of the biggest snags your company faces that may be invisible in the warehouse itself is when your shipping and receiving department experiences backups, Emerge noted. You would be wise to determine how common this issue is, and why, so that your entire operation can get ahead on an ongoing basis.