6 ways to avoid slip-and-fall incidents in your warehouse
4/10/2020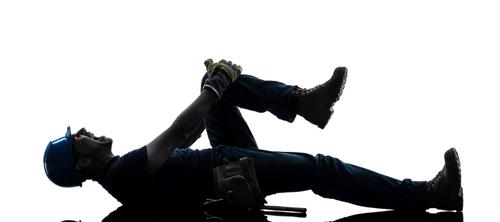 One of the biggest hazards in just about any workplace is the risk of someone injuring themselves in the course of their daily duties through slip-and-fall accidents. These may be seen as random, unavoidable incidents, but in many cases, there are root causes employers can address to reduce this potential for a serious injury.
Times are already tough in the world of coronavirus, so reducing other occupational hazards in your warehouse is good practice. Here are some tips to help you reduce slip-and-fall risk:
1) Make cleaning an everyday process
Among the most common causes of slip-and-fall incidents is when there is a substance or object left lying on the ground, according to Grainger KnowHow. With that in mind, it's important to make cleaning at least once a day a priority, and to also clean on demand - meaning that when there is a spill or some items fall to the ground, it's cleaned up as soon as possible. Likewise, it's critical to empty trash receptacles at least once a day.
2) Keep a careful eye on all floor or ground surfaces
As with cleaning both on demand and on a regular daily schedule, it's also wise to inspect any areas where people walk regularly for potential tripping or slipping hazards, Grainger KnowHow added. If the pavement in the parking lot or on the sidewalk is becoming a problem, it needs to be addressed, and the same is true for cracks in the floor in your loading area, among other places.
3) Make sure walking areas are even
Over time, pavement can crack, and areas of sidewalk may develop potholes or bulges and other hazards can arise, according to HTSS, Inc. This is another aspect of ensuring people don't stumble over hazards they simply do not expect, and because these can often become problems, or go from minor issues to major ones, literally overnight, it requires constant vigilance. Most of the time, you won't need to do anything, but you should always be ready to react.
4) Install no-slip flooring where you can
It's not feasible to put no-slip flooring onto every square foot of your warehouse and other facilities, but the heavily trafficked areas where employees do the bulk of their work should require it, HTSS, Inc. advised. That way, you're adding one extra layer of protection in a high-risk spot.
5) Keep ground obstructions to a minimum
As a general rule, you should strive to keep your floors completely clear of non-furniture or non-equipment obstacles, according to TKO Construction Services. While it may be tempting to put boxes down in a relatively out-of-the-way spot, one unsuspecting employee who didn't see that obstruction can derail your clean safety record.
6) Train workers on what to look out for
While you can do a lot to reduce risk of slip-and-fall incidents, you can't do everything, TKO Construction Services noted. For that reason, make sure employees know the best practices and potential hazards, and report them when they're noticed so that they can be addressed as quickly as possible.