5 keys to disinfecting and sanitizing a warehouse
4/21/2020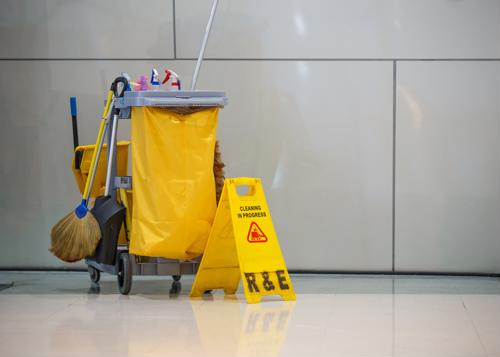 The coronavirus outbreak has fundamentally changed many industries, and whether that change is short- or long-term, it does take some adjusting of your existing business practices.
That certainly includes the cleaning efforts throughout your warehouse, because with the threat of infection very much real, businesses have an obligation to make sure they're doing all they can to prevent the spread. The following tips should help them do just that:
1) Start with heavily trafficked areas and surfaces
It should go without saying that the parts of your facility with the most foot traffic, or which are handled the most, are the ones where you need to be most diligent about cleaning and disinfecting, according to the Centers for Disease Control and Prevention. Such spaces include, for example, the loading dock or break room, but also every doorknob or handle, light switches, pieces of equipment and so on. With that in mind, you should redouble your efforts in those areas especially.
2) Follow instructions on disinfectants
In many cases, your cleaning staff may not be doing enough to properly sanitize given areas or surfaces, the CDC said. For instance, many cleaners have specific directions that help to maximize their ability to kill germs - so if you're not doing that, you may not be doing as thorough of a job as you could to fight COVID-19 and other infectious illnesses, and also not getting your money's worth on the cleaning products themselves.
3) Remember that it's a two-step practice
Another critical step to making sure your cleaning efforts are going as far as they possibly can is to start with a sufficient wipe-down of all these surfaces before applying the heavy-duty cleaning products, according to Envirox. In most cases, these cleaners work best when they're applied to a surface that has already been wiped down with a damp cloth, or soap and water. Adding that extra step packs a little extra punch for every deep-clean you conduct.
4) Make sure people practice good hygiene generally
It's also important to follow not only good cleaning practices, but also encourage staffers to be cleaner themselves, Envirox added. That may include not only picking up their own messes in break rooms and work areas, but also following the basic hygiene steps of coughing or sneezing into their elbows, washing their hands regularly, wearing protective gear and so on throughout this crisis. That kind of attention will help ensure long-term success in your efforts to reduce infection risk.
5) Be as thorough as possible
Many companies are now adding extra passes for their everyday cleaning efforts, which is certainly a good idea, but they need to also conduct a careful assessment of their unique risk factors and areas of concern, according to the International Association for Food Protection. That way, you'll know the specific areas where the extra cleaning efforts will be most effective and give yourself a greater chance of keeping infection risk as minimized as possible.