7 tips for better social distancing in the warehouse
5/20/2020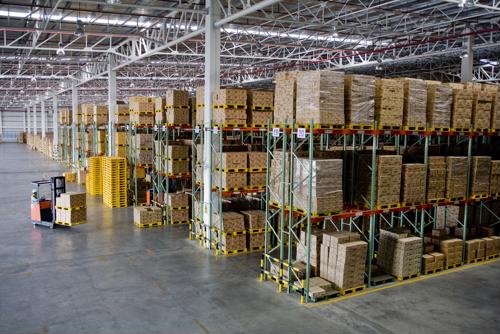 If you've kept up your warehouse operations throughout the coronavirus lockdown conditions, you've probably made more than a few changes to your normal process. That's more than just wise, it's an important part of keeping your employees as safe and healthy as possible.
But are you doing all you can to ensure they're properly protected? The following tips should help ensure risk is as limited as you can going forward:
1) Start with the obvious - and mark it off
The most obvious way to ensure workers are properly and safely distanced from one another is to spread out their work stations as much as you can, according to the New Jersey Department of Health. Keeping them at least six feet apart is a good idea, but so too is marking sure that distance is properly marked on the floor. The visual cues will help prevent unintended drifting as people talk or otherwise get their job done.
2) Put up signage
There are a lot of things you should be reminding your workers of on an ongoing basis in these times, and the easiest way to do that is to put up signs about what proper social distancing and other safety steps entail, the New Jersey Department of Health said. While workers may not necessarily need the constant reminder, it will help to reinforce the right ideas.
3) Stagger shifts
While you may not be able to work at full operational capacity 24/7 during this time, you can still make sure you're getting plenty of work done while keeping employees safely apart, according to Cushman & Wakefield. Instead of having three or four shifts throughout the day, consider staggering them so you have six or eight, starting at two- or three-hour increments.
4) Change the layout of common areas
When you're trying to keep people apart, you need to make sure you discourage them from coming together at every opportunity, Cushman & Wakefield added. That means you may have to physically change the layout of certain parts of your warehouse, such as break rooms, locker areas and so on.
5) Use more tech and equipment
Often, you may have two or more employees work together on a project, but with technology or new equipment, just one may be able to complete the same work in a similar amount of time, Cushman & Wakefield further advised. That, obviously, may require some level of investment, but if it was something you were planning to implement soon anyway, it might not be a bad idea to do it now.
6) Provide proper shielding and PPE
It should go without saying that you need to provide all workers with proper protective equipment to keep them safe from infection, according to Davies & Robson. However, you might also want to think about installing Plexiglas or other shielding between stations to further insulate them.
7) Avoid non-essential activities
There are probably plenty of meetings, training sessions and so on that happen in your facility on a regular basis, Davies & Robson said. Now, before scheduling them, ask yourself whether it's really necessary, or if it can be completed a different way.