4 steps to boosting picking efficiency
1/13/2021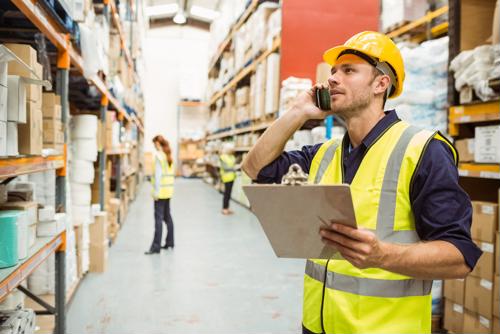 If you are looking at ways to make your warehouse more efficient overall, there may be a number of ways to achieve that. One of the most straightforward is by making your efforts to pick and pack orders a smoother and more streamlined process overall.
That's obviously not an easy job when viewed holistically. However, there are clearly a lot of literal moving parts in that process that can be tweaked and better defined so employees walking your warehouse floor have an easier time getting their tasks completed more effectively. Read on to learn just a few of the things you can alter to become more efficient:
1) Add tech for every worker on the warehouse floor
There is seemingly an ever-growing number of ways in which tech can make your employees' picking efforts more seamless, from truly cutting-edge options like augmented reality to direct workers to the right spots to simple scanning technology that helps you keep better tabs on what's under your roof, according to Tecsys. The choices you make can certainly vary in price and otherwise might require some fairly significant uptake and training for your workers, but the amount of efficiency you wring from whatever you choose can help you make up those initial costs in short order.
2) Rethink your layout
As your organization has grown and changed over the years, you should have also been rejiggering your floor plan to better accommodate a larger operation or workforce, Tecsys added. If that hasn't happened to date, now is certainly the time to dive in and truly examine your past efficiency difficulties. Identifying areas where there are on-foot "traffic jams" on a regular basis, or just shifting where your workers pack orders to be closer to a central location, can go a long way toward informing layout changes.
3) Get better at storing items on shelves
An all-too-common problem in warehouses around the world is a lack of defined organization for how items should be stored on their shelves on an ongoing basis, according to Supply Chain 24/7. While few operations take a "catch as catch can" approach to storing their items, there may not be as much strategy as is needed to ensure success. Something as simple as having a rotating schedule to shift the most in-demand items closer to where items are packed so employees have to cover less ground when pulling them from shelves can go a long way here.
4) Buy new racks
Finally, a great way to make picking more efficient is to upgrade your racks so you can fit more items on the shelves or make it easier to pull from them, according to Food Logistics. Especially if you haven't made such an upgrade in several years or more, now is the time to right-size your racks and ensure your employees are continually set up for picking success and efficiency. It may seem like a big investment, but the extent to which it benefits your picking and packing processes could be significant.