7 New Years resolutions for your warehouse
1/25/2021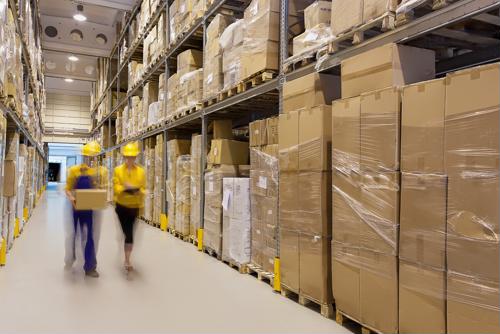 Everyone wants to start the new year off right, and that often means people make pledges to themselves to lose weight, learn a language, read more and so on. However, if you manage a warehouse or similar industrial space, you might want to think about the ways in which a New Year's resolution can help you and your entire company operate more effectively and efficiently in the months ahead.
Not sure where to start? We have a few suggestions:
1) Make safety your No. 1 priority
First and foremost, you need to recognize that perhaps the biggest risk in the logistics world is that even one relatively small accident can result in a massive loss of efficiency, according to Certify Me. For that reason, you should make sure workplace safety is your top priority in 2021, and that means not only training workers for best practices, but also investing in new equipment that keeps workers protected.
2) Focus on organization
If it's been awhile since you conducted a top-down review of how you operate on a daily basis, now is the time to do it, Certify Me said. In particular, it could be wise to focus on how items flow through your facility and see if there are any ways to tighten up areas of inefficiency that commonly arise.
3) Consolidate aspects of your business
Along similar lines, it could also be a good idea to see if there are aspects of your company that are effectively doing the same job, or worse, doing the same job twice, according to KMH Fleet Solutions. For instance, if you have multiple professionals who work in purchasing, but are not operating on the same team, it can be a classic case of one hand not knowing what the other is doing.
4) Use less power and gas
After labor, one of the biggest expenses any logistics business faces is the cost to heat and power their massive facilities, KMH Fleet Solutions added. Taking on a few efforts to cut heating bills this winter and reduce power consumption throughout the year could free up money you can use elsewhere.
5) Find ways to make your current workers more productive
When you are looking at aspects of your operations to streamline, you might want to go all the way down to the granular level, according to Snap Fulfil. In many cases, you may find that the workflows your employees follow do not allow them to maximize the use of their time, and a few changes can go a long way.
6) Identify and track new KPIs
In many warehouse settings, one of the primary problems is that companies don't know what they don't know, Snap Fulfil advised. By digitizing more aspects of your operations through improved data collection and tracking, you may find new key performance indicators that provide better insights into your organizational efforts.
7) Get a better handle on returns
Finally, you likely know by now that handling returns is among the biggest drags on your operational efficiency, so this is an area you need to look at, Snap Fulfil noted. Keeping tabs on what mistakes lead to returns can help you get a better understanding of things you can fix.