How to prepare your warehouse for the holiday season
12/15/2021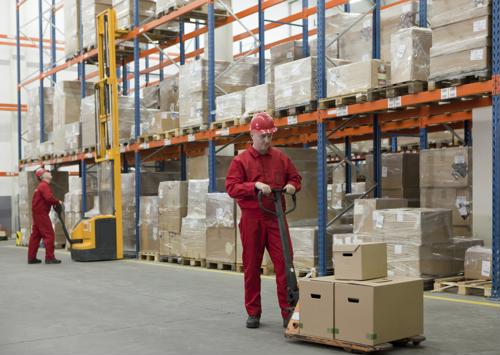 The holidays are swiftly approaching, meaning warehouses will soon be inundated with orders. According to the National Retail Federation, holiday sales for 2021 are expected to increase from 8.5% to 10.5%, with online and non-store sales increasing up to 15%. As e-commerce continues to rise and retailers scramble to stock their shelves, warehouse workers are rushing to keep up with growing demand. To help your team get through the most stressful time of the year, here are six ways you can prepare your warehouse for the holidays.
1. Assess your facility's floor plan
Larger shipping volumes during the holiday season require an efficient warehouse layout. Take the time to critically evaluate each area of your facility, from shipping and receiving zones to inventory stock and placement. Is your inventory layout efficient enough for workers to easily find the stock they're looking for? If not, consider storing items that aren't needed as frequently in areas that are less accessible.
2. Optimize storage capacity
Does your warehouse have the room required for the influx in holiday orders? If you're worried about storage capacity, reassess how you're using your current space. Try to utilize vertical space and consolidate inventory where you can. If it's safe, you can also reduce aisle widths, opening floor space for more products.
3. Maintain, service and repair equipment
As warehouses reach the busiest time of the year, the last thing you want is for a major piece of equipment to fail, causing you time and money, and potentially injuring an employee. Be sure to service or repair any faulty equipment before the holiday rush, and train your staff to prevent and detect maintenance issues before a catastrophic malfunction occurs.
4. Leverage available technology
A warehouse management system (WMS) can help you streamline daily operations and training, and allows you to monitor productivity. Be sure to familiarize yourself with your software before peak season to leverage its analytical and operational capabilities. If you haven't already implemented a WMS into your facility, wait until after the season to make the switch, as changing during the holidays can drastically slow down your operations.
5. Project orders and inventory levels
The fourth quarter is the busiest time of the year for warehouses, making it crucial to assess incoming inventory. A WMS can help you determine order projects based on past years so that you can adjust workflows accordingly. To prevent bottlenecks, you'll need to know when peak inventory will arrive, monitor throughput and project inventory turnover rates.
6. Hire seasonal staff
To deal with the influx of inventory and increased demands, warehouses need to ensure they have enough staff for the holidays. According to Forbes, Amazon alone plans on hiring an additional 150,000 seasonal workers this year, and companies are starting to worry about running out of workers. If your warehouse is facing hiring difficulties, consider partnering with a staffing firm to help you get the talent you require.