5 warehouse trends to look out for in 2022
12/17/2021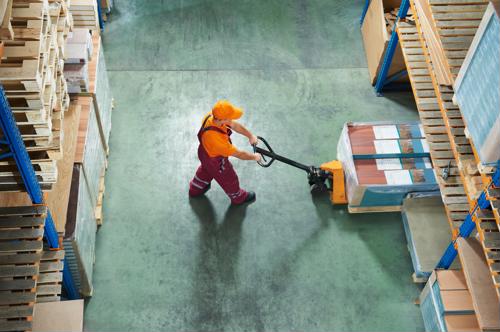 In the past two years, supply chains have seen massive shifts due to the pandemic and its effects on businesses, consumers and countries around the globe. Warehouses have had to continually adapt and update their practices and technology to keep up with frequent changes and disruptions. This evolution will only persist in 2022 as warehouses find new ways to reinvent their management and logistics.
Warehouse trends for 2022
A recent study from the OECD found that 45% of businesses experienced supply chain disruptions due to the pandemic. To alleviate some of this pressure, warehouses must find new ways to optimize their practices and prepare their businesses for unprecedented conditions. As we bid farewell to 2021 and usher in the new year, be on the lookout for these five trends in warehouse management for 2022.
1. Automation technology
Advancements in technology have streamlined warehouse workflows by automating time-consuming tasks that otherwise require manual labor. An eMarketer report estimates that 42% of medium-to-large U.S. warehouse operators will utilize robotics in some capacity by 2022, up from 34% in 2020. Self-managing inventory systems, autonomous vehicles and mobile robots increase productivity and efficiency while freeing warehouse workers for more complex tasks.
2. Sustainable practices
While sustainable practices focus on reducing carbon footprints and environmental impacts, they can also benefit your business. For example, investing in energy-efficient lighting and improving warehouse insulation can save your warehouse money on electricity and heating and cooling expenses. Additionally, switching to efficient packaging practices and biodegradable materials can minimize shipping costs and reduce waste.
3. Micro-fulfillment
As more and more businesses look to provide customers with one-day or even same-day delivery, warehouses must be able to adapt to this service model. Deploying micro-fulfillment centers in localized areas of high demand can give your warehouse an advantage by increasing overall capacity and shipping efficiency while reducing delivery times. Whether added onto an existing location or functioning as a stand-alone facility in a key area, micro-fulfillment centers are a cost-effective, flexible solution for faster last-mile deliveries.
4. Supply chain visibility
Supply chain visibility is vital to warehouse operations, but many supply chain executives report a lack of such visibility. This can be problematic for modern consumer preferences as customers and retail partners increasingly want round-the-clock access to shipment information and delivery updates. Increasing supply chain visibility can help you quell customer concerns, spot supply chain trends early on and prepare for potential disruptions.
5. Data-driven decisions
Data analytics is already an essential aspect of warehouse operations, from inventory management and shipment tracking to monitoring consumer preferences; but new advancements in software and technology have allowed facilities to optimize long-overlooked processes. Warehouse operators are now adopting modern, data-driven solutions to increase workflow efficiency and productivity.
For example, warehouse management systems can monitor facility metrics in real time to highlight any inefficiencies and identify and prevent potential technical issues from occurring. Utilizing these tools to drive decision-making and streamline processes will allow operators to reduce long-term costs for their warehouses.