4 critical warehouse productivity tips
4/1/2021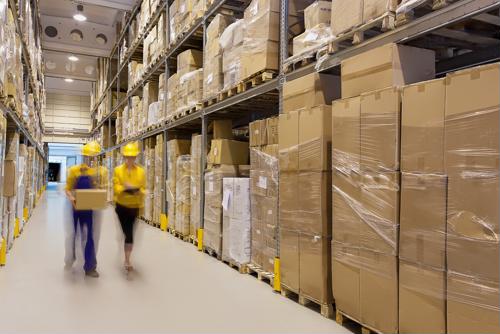 The entire point of running a warehouse is to get products or materials into and back out of your facility as efficiently as possible, but that's often far more easily said than done. For that reason, you may need to consistently evaluate your processes from top to bottom and make sure you are fully maximizing your efficiency. When you do so on a consistent basis, you may be able to unlock levels of productivity you could have previously only dreamed of.
To ensure you're fully set up for success, the following tips are things you should look at regularly to ensure your productivity is always at its top level:
1) Put safety first
Warehouse safety is something you no doubt prioritize in your own way, but making it more front-and-center in everything you do can really pay off, according to Material Handling & Logistics. It may be helpful to think of things in terms of worst-case scenarios here: How much productivity would you lose in the event of even a minor accident that leaves an employee slightly injured? You not only have to attend to that worker, who may be able to do their jobs to the fullest extent for hours or even days, you also have to cordon off part of your warehouse, conduct an investigation, fill out piles of paperwork and more.
Sometimes, accidents are unavoidable, but if you center safety more effectively, you can keep things moving along nicely.
2) Improve inventory management
When it comes to the actual work your employees do on a daily basis, though, it's worth talking about how well you're dealing with your inventory, Material Handling & Logistics added. Even a few items being stored improperly on shelving or in places that are not conducive to ideal picking and packing could hamper your productivity. As such, you should always be evaluating pick times, order trends and so on to make sure your inventory management is aligned with your needs.
3) Make the most of your equipment purchases
When the time comes to purchase new equipment, whether it's shelving or a fleet of forklifts, you should make sure it meets as many of your immediate needs as possible, potentially coordinating across departments before pulling the trigger, according to Manufacturing.net. That way, you don't end up regretting a purchasing decision you've made, and you continue to get the best possible return on your initial investment.
4) Hire the right people
Finally, you can't overstate the importance of having the right people working within your warehouse on an ongoing basis, according to Camcode. Whether it's pickers and packers at the entry level or the highest-level managers at your facility, you need to ensure the people you're paying to work for you have all the best in terms of skills and smarts, so that you're always putting yourself in the best position for long-term operational efficiency. That might also mean increasing your flexibility when it comes to right-sizing your workforce as demand ebbs and flows throughout the year.