9 reasons you should get forklift certification
6/8/2021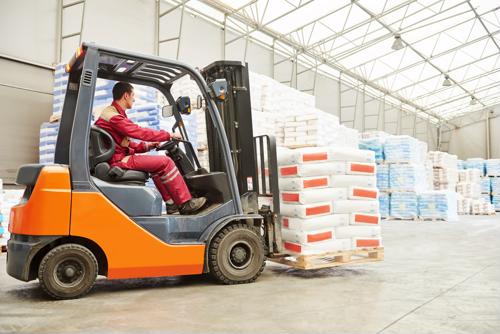 The recent Voice of the Blue-Collar Worker survey from EmployBridge found that many people working in warehouses would like to move up within their companies, but you may not be sure how to do so. One great step you can take to boost your standing within the warehouse is to become forklift certified, because most warehouses always need people who are highly qualified to take on such tasks.
The following are just some of the reasons why pursuing forklift certification will be a boost for your career:
1) It will make you more valuable to your employer
First and foremost, forklift operators are fewer and farther between than just about any other blue-collar job in logistics, according to Certify Me. As such, your employer is likely to do more to keep you, including pay higher wages or give you first pick of shifts.
2) Training helps you avoid accidents
No one wants to get into an accident on the job, but forklifts do increase risk — especially if unqualified people are working operating them, Certify Me said. But if you go through the certification process, your likelihood of an incident are greatly reduced because you know exactly how to operate it.
3) You become qualified for more work in more places
Lots of warehouses are in hiring mode right now, and if you have forklift certification on your resume, you'll move right to the top of any employer's list, Certify Me added. That, in turn, gives you future flexibility for working in the industry.
4) You'll be more efficient
When you know how to operate a forklift properly, all the work you have to do in a given day gets done with greater ease and speed, according to Eastern Lift Truck. That, in turn, makes it easier to hit or exceed benchmarks and keeps the job relatively stress-free.
5) It helps you stick around if you like your workplace
As mentioned, employers highly value anyone with forklift certification so you can move up within the company, Eastern Lift Truck noted. If that's something you want to do, being forklift certified shows your employer you have some motivation to advance.
6) You can avoid critical breakdowns that make your job harder
When you know what it takes to safely operate a forklift, you will also put less strain on the machine itself, Eastern Lift Truck advised. That, in turn, avoids mechanical problems that can make it more difficult to hit your goals on a daily basis.
7) It avoids potential legal issues
If you're operating a forklift without being certified, and there is an accident, both you and your employer could be held liable, according to ForkliftCertification.com. Certification helps you avoid that potential entanglement.
8) A short training period can have a lifetime of benefit
It doesn't take long to become forklift certified, but between the opportunity for advancement, the higher pay and the preferential treatment, the benefits of doing so will keep coming back to you for years or even decades, ForkliftCertification.com stated. It's a small price to pay for many benefits to come.
9) You can build on each certification
Finally, there are many kinds of certification you can obtain, and the more you have, the better off you'll be, ForkliftCertification.com. Certification for all seven classes of lifts can be a great idea for your career.