4 fresh ways to retain warehouse workers
9/14/2021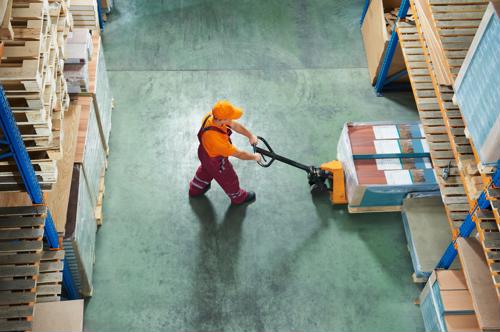 With turnover rates soaring and once-happy employees leaving their jobs in record numbers, it's more important than ever to keep warehouse workers happy. To do that, you need to walk a mile in their shoes: Find out what motivates them, what inspires them and why they would choose to stay with one company over another — and then use that information to your advantage. Here are a few ways to retain the employees you already have — and make your company that much more appealing to new hires in the process.
1) Use technology in smart new ways
Young workers like millennials aren't the only ones looking for tech-savvy workplaces. Warehouse employees of any age will appreciate technological solutions that make their jobs — and lives — easier. The key is to introduce these solutions in stages so that no one feels overwhelmed or confused. Also keep in mind that you should offer all the necessary training and be aware of learning curves. That way, employees see that you're helping them out rather than giving them more hoops to jump through or more strict deadlines to meet.
2) Keep benefits competitive
According to 6River, one of the best ways to retain warehouse workers is to offer competitive benefits. That doesn't mean you have to spend all your time and money creating high salaries, though. Warehouse employees appreciate other perks as well — like solid healthcare, generous time off, opportunities for personal and professional development, team-building outings and more. This is your chance to get creative and show off what your company can really offer to its people, so feel free to think outside the box. Also, remember to put these benefits on display when creating new job openings — that way, current and potential employees alike see that you're proud of your company culture.
3) Provide opportunities for growth
Warehouse workers, like employees in all industries, like to know that they're viewed as skilled, valuable individuals. That's one of the reasons Training Magazine recommended giving employees the opportunity to sharpen their skills and move upward in your company. Although lateral movement can also be inspiring, it's growth and upward momentum that most strongly encourages employees to stay at your warehouse and continue on their journey to become the best they can be.
4) Create an engaging work environment
An engaging work environment means a lot of different things to a lot of different people. To create an environment that welcomes and motivates all employees, broaden your horizons and make sure you're developing multiple aspects of your company culture. For example, offer learning and training opportunities for workers who want to develop their skills, but also provide engaging team environments for employees who are happy staying right where they are. You can also actively improve diversity and accessibility, opening your warehouse to new experiences — and new hires — that will make every work day the kind of adventure employees actually look forward to.