6 essential forklift safety tips
10/9/2019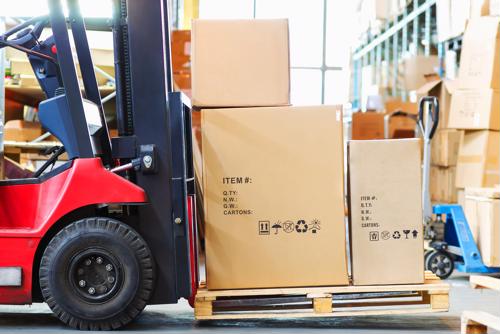 Forklifts have become an essential part of just about any warehousing operation, and for good reason. But as much utility as this heavy machinery has, it can also pose a safety issue to operators and those nearby as well if it's not operated properly.
With that in mind, any business incorporating a forklift into their work needs to make sure the only people using this equipment are properly trained for all necessary safety standards, including the following:
1) Start with an inspection
Before your workers get behind the wheel of the forklift, they need to make sure it's ready for operation, according to Hyster. A quick inspection of the condition of the tires, the battery's charge and the general state of the equipment should help determine whether it's safe to operate for a given job.
2) Buckle up for safety
While drivers aren't going to be reaching top speeds or stopping short, it's nonetheless important for them to fasten their seatbelts while they're behind the wheel, Hyster advised. Simply put, you never know what's going to happen when you're operating a vehicle of any type, and it's always better to be safe than sorry.
3) Know the limits
Anyone using a forklift should be well versed in the equipment's capacities, according to Safety and Health Magazine. All operators should strive to keep in mind whatever the vehicle's proscribed weight and height limits are, and make sure any load they attempt to lift with it fall within a safe range before operation.
4) Secure the load before lifting
One thing all forklift operators should strive to avoid is lifting any pallets or other items that have not been properly secured, Safety and Health Magazine noted. The last thing any driver ought to want is for a load to shift while it's being moved, as this can be dangerous for themselves and others and, at the very least, damage the item or items being picked up. As such, everything the forklift carries should be properly secured before it's moved.
5) Know the route in advance
When transporting a load through a parking lot, loading bay or warehouse itself, operators should always know where they're going, according to EHS Today. This not only saves time, but it helps protect themselves, the load and coworkers from getting into a tight spot that could pose a dangerous situation. Plotting the route from pickup to safe storage and back again helps keep all involved safe.
6) Communicate effectively
While all forklifts and other heavy machinery should come with features that make them easier to spot - warning lights, backup horns, etc. - it's also incumbent upon drivers to keep their heads on a swivel during operations and let others know what's going on, EHS Today noted. Having a driver shout to a nearby coworker that they're about to take a left or need to set a load down will help ensure no one is caught unawares by a forklift's movements.
Making sure all workers know how to safely operate forklifts and work in their proximity is key to ensuring there are no accidents when using this vital piece of equipment.