Warehouse employers willing to train forklift operators
12/13/2018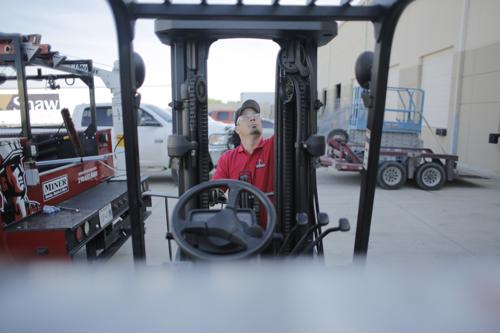 With the explosion in warehousing activity in recent years, it is understandable that heavy hiring comes with it. But one area that companies often have a need for and struggle to fill is for people who can successfully be certified to operate forklifts. To that end, many organizations - both public and private - are now willing to fund programs to onboard workers into this part of their logistics operations as quickly as possible.
The fact is that forklifts are a necessary part of life in many warehouses, but they also pose a serious safety risk even when drivers are fully certified, according to Rental Pulse. Data from the Occupational Safety and Health Administration shows that in the past year, there were nearly 100,000 workplace injuries related to forklifts, of which more than a third were considered quite serious.
As a result, it's not just important to ensure drivers are fully certified and know how to keep themselves and others safe when operating these vehicles, the report said. Employers should also strive to ensure that anyone who even has a chance of working in proximity to a forklift knows what to look out for, and that staying alert is the single most important step to avoiding an accident stemming from loading and transporting potentially heavy pallets.
Even if a forklift isn't carrying anything at all, those around it should be cautious, because they move relatively quietly and may not always be noticed on a noisy shop floor, potentially resulting in accidents, the report said.
The plan in action
In Philadelphia, where the city is working to revitalize its PhilaPort shipping logistics operations, the Citizens Bank Regional Maritime Training Center will soon open, allowing a number of organizations to come together to boost training opportunities for local residents, according to the Philadelphia Inquirer. Citizens provided about $100,000 in funding, and the center will also receive support from the city government's workforce organization, Philadelphia Works, to offer training on several of topics, including the safe use of forklifts and complying with OSHA safety regulations overall.
In the first year of its operations, the Regional Maritime Training Center is expected to train about 200 new and current workers and then continue to grow beyond that, the newspaper reported. The hope is to boost employment at the city's port overall, and a lot of existing barriers - based on qualifications or cost - will be removed to encourage more enrollees.
The next generation
Another way in which organizations are easing barriers to entry in forklift training is by going virtual, according to VR Focus. By having trainees use specialized software to learn the ropes of operating a forklift, they reduce the risk of injury or damage and simultaneously allow for more people to use these virtual "vehicles" at once, getting everyone through the training process more quickly.
When forklift training efforts are made easier to complete - while still ensuring the same level of qualifications at the end of it - that can be a big boon for any company that needs to increase the number of qualified operators they have on staff.