6 ways to reduce warehouse injuries
5/2/2019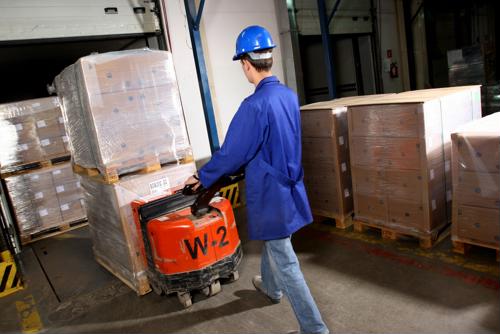 A warehouse can be a dangerous place to work without the proper processes in place to make sure accidents on the job are kept to a minimum. Simply put, a company's top priority - above a strong bottom line and stellar service - is keeping employees safe.
Here are six ways warehouse operators can make sure they're holding up their end of the bargain to protect workers who put in the time and energy to do the job right:
1) Keep things between knee and shoulder height
Many workplace injuries occur because people put too much strain on their bodies trying to complete simple tasks that require stretching and bending, according to EHS Today. When companies install shelving units that keep just about everything they'll need to get the job done between their knees and shoulders. Doing so reduces the need to hunch down or get up on tiptoes to grab potentially heavy items.
2) Provide mechanical assistance for even somewhat heavy items
While many warehouse jobs require workers to be able to lift 50, 60, 70 pounds or more, that shouldn't be the standard, EHS Today noted. Whenever it's reasonable, employees should be provided with dollies, pallet jacks and other equipment that makes carrying heavy loads significantly easier, reducing the physical strain it takes to do the work.
3) Train everyone for proper behavior
It's all well and good to set people up for success in terms of their everyday work processes, but companies also need to make sure employees know what they're doing, according to Slice Products. The ability of any worker to identify potentially hazardous situations and take steps to avoid risk factors is critical to upholding a strong workplace safety record.
4) Inspect equipment regularly
Any equipment that's used in the course of a day's work should also be regularly checked for wear and tear, Slice Products added. For instance, hard hats or safety gloves should be inspected before every use to make sure they're going to hold up to the job, and the same is true of forklifts, dollies and other items that get used every day. If they fail, it could be a big problem.
5) Mandate better gear
In addition to giving workers the proper equipment to do their job, it's also vital to make sure people showi up to the warehouse with clothing that's safe for work, according to Reno Forklifts. What company standards require - no shorts or short sleeves, no shoes with worn-out treads on the sole, etc. - should vary by workplace, but when employees know what's expected, they're less likely to arrive wearing unsafe clothing.
6) Prioritize maintenance
Companies also have to make sure they are doing what they can to keep their facilities safe, by ensuring every item in regular use is in good working order, Reno Forklifts advised. Along similar lines, it's critical to keep all work spaces free of clutter so there are no unforeseen hazards that could lead to an accident.