Improve your warehouse's success with better team-building
9/18/2019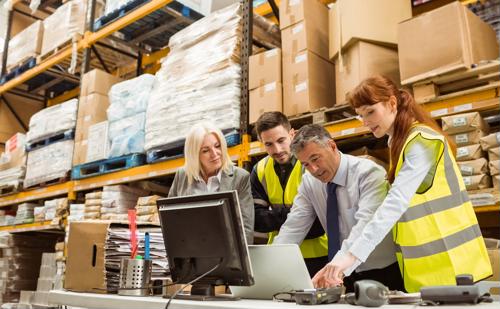 Collaboration is key in just about any business, but when it comes to warehousing and logistics, it's mission-critical. With that in mind, executives and managers may need to do more to foster a sense of teamwork and collective achievement, so everyone knows what to do as your business works toward its goals for a given month, quarter or year.
The following tips should help you improve your opportunities for team-building in the warehouse:
1) Brainstorming
One of the best ways to help everyone get a better idea of what each coworker is thinking is to simply get them all into a room together and talk about the ways they might be able to do their work smarter, according to The Muse. When people can collaborate on ideas to find more ideal workflows or otherwise increase efficiency, that might feel better than edicts from management about new ways to proceed.
2) Team lunches
In today's business world, especially in the fast-paced realm of logistics, it's not always easy to spend time together as a big group and have a nice, relaxing conversation, The Muse noted. Companies that set aside time for occasional team lunches will often find that the investment is a good one, because workers will come out of these events with more connections to their colleagues.
3) Thought experiments
Another great way to build teamwork skills is for everyone to get into a room together and figure out a tricky problem, according to WorkSMART. "Stuck truck" and similar scenarios will help workers collaborate to find a solution to a complicated problem, which may help them build the critical thinking skills they'll need to tackle real-life issues as they arise in the warehouse. There are plenty of these kinds of thought experiments to try online, so a little research may be all a manager needs to do.
4) Play games
Similar to collaborative thought experiments, setting aside time in the morning or at the end of a shift to play some team-building games - whether that's a sport or more of a board game - could create a more collegial atmosphere at work while having fun, WorkSMART added. Whether it's teams of two or teams of 10, playing together will help people work more effectively.
5) Reward team performance
One great way to build teamwork is to make sure all stakeholders know they have an opportunity to earn great rewards or perks for meeting their goals collectively, according to the Houston Chronicle. When managers set benchmarks and tell their workers there's a bonus in it for them to go beyond those levels of efficiency or output, everyone has a tangible, vested interest in pulling in the same direction.
6) Retain your employees
Of course, there's no better way to foster teamwork and community in your warehouse than by keeping all your workers around for the long term. Those who have been on the payroll for years are not only more productive in general than new hires, but also know everyone else and often take greater pride in their work for your company. As such, paying employees higher salaries as they increase their tenure, and providing great benefits to boot, is a must.