6 tips for working in a warehouse
10/1/2020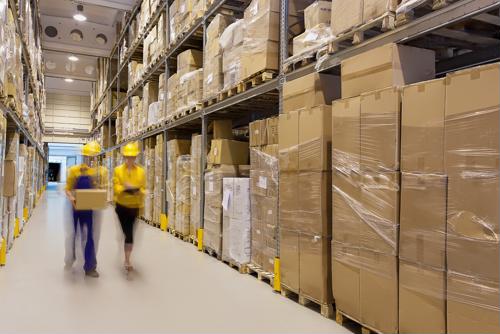 If you're thinking about getting into the warehousing industry in the weeks and months to come, there may be more to this kind of work than you realize. Just like any other job, even seemingly simple tasks take a certain level of expertise to do properly and efficiently, and just because a job doesn't necessarily require a college degree doesn't mean it's unskilled labor.
With that in mind, if you're considering taking the leap, here are a few things to remember about this kind of work:
1) Build bonds with your coworkers
One of the biggest aspects of warehousing work is just how reliant on teamwork it tends to be, so it's important to come into the job ready to communicate and make strong interpersonal connections, according to Aerotek. That doesn't mean you have to like every single person at your job, but you do need to be able to interact with them multiple times per day and collaborate on all kinds of efforts, so this task should start as soon as you begin work.
2) Improve your skills
Again, working in a warehouse is hardly unskilled labor, and you should always be willing to grow and change throughout your time in the industry, Aerotek said. Fortunately, many logistics companies provide both in-house and additional training to help you hone all the skills you need to succeed in the field.
3) Get ready to move up the ladder
As you "skill up" in your warehouse, there is likely to be plenty of opportunity to be promoted from within, according to Workstep. As a general rule, these companies tend to like moving their tenured workers up the ladder — since tenured workers have a clear understanding of their operations from the ground up — and this is a high-churn industry. As such, if you have the willingness to stick around and keep moving up, the opportunity will probably be there for you.
4) Find ways to keep yourself motivated
With all of the above having been said, there is many warehousing jobs can be monotonous, especially when you're first starting out, Workstep advised. Consequently, it's important to be a self-starter and keep yourself motivated on an ongoing basis, so you are always in a position to help your teammates and the business as a whole.
5) Understand safety risks
If you're just getting into the warehousing industry, you might not realize how much of a factor safety is in your daily work, according to Business Blogs. However, there are plenty of risks associated with such efforts, and while your company will try to keep you safe and train you for safety efforts, you still need to keep in mind the unique hazards you may encounter.
6) Stay alert
Along those lines, it's also vital to make sure your attention never slips in the warehouse, because even one careless moment can lead to a costly mistake, Business Blogs added. When you keep your head on a swivel and always pay careful attention to the task at hand, risk will be kept to a minimum.