Top cities where minimum wage doesn't pay the bills
2/11/2020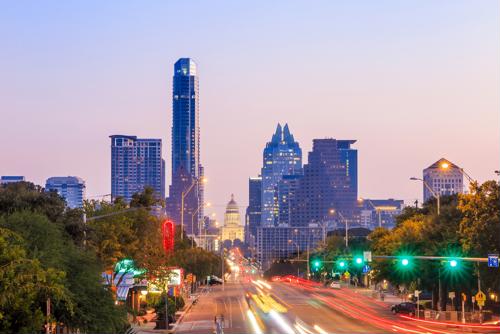 Across the U.S., there is a broad and growing acknowledgement that the minimum wage just isn't enough to make ends meet. At the federal level, the number hasn't budged in more than a decade - the longest period without an increase since the minimum wage was first established - and that's making it more difficult for millions of Americans to keep up with the cost of living.
Unfortunately, there are some parts of the country where this is a bigger issue than others - especially in states where lawmakers haven't established a minimum separate from the federal level, according to Magnify Money. For instance, the city of Austin, Texas, is the least affordable major city in the country for someone living on minimum wage, as the median rent there is $1,220 a month, but the minimum wage is just $7.25 per hour, and take-home pay is even lower. As a consequence, just to pay the rent, low-wage earners there have to work 50-plus hours per week; to cover everything else included in the cost of living, the number is closer to 200 hours a week.
Also high on the list are Miami (where rent as a portion of take-home pay is 132%), Atlanta (129%), Dallas (125%), Philadelphia (124%), and Houston (121%), the report said. Among the 20 least-livable cities for the lowest-paid workers, nine are in places where the minimum wage is in line with the federal level - that includes five of the top six and eight of the top 10.
Another issue to consider
It's worth noting, however, that rent isn't the only problem these workers face - there are other aspects of the cost of living that can make it extremely difficult for the average minimum-wage worker to make ends meet, according to Honolulu Civil Beat. Hawaii, for instance, has one of the highest costs of living in the U.S., but the minimum wage is just $10.10 per hour, which adds up to $21,000 per year or so for someone working 40 hours per week.
The living wage in Hawaii - the amount that covers food, shelter and basic health care - is closer to $34,000, meaning low-wage workers make about $7.53 per hour less than they need to live somewhat comfortably, the report said. Consequently, worker advocates are pushing the Hawaii government to approve an increase in the minimum wage to $17 per hour.
Is there good news?
While the federal minimum wage hasn't moved in more than a decade, many states that have increased their own levels in recent years are ensuring some amount of ongoing comfort, according to Marketplace. That's because they are implementing automatic increases tied to the cost of living that go into effect at the start of each year. That way, workers in those states never end up falling too far behind the rate of inflation, even if more likely needs to be done to help them earn a comfortable living. That's a big part of the reason why 47 cities and states increased their minimums at least somewhat at the start of 2020.
With all this in mind, it's always a good idea for companies to ensure they are giving workers regular pay increases as time goes on, to both retain existing talent and attract new hires.