5 ways warehouse workers can pick and pack more efficiently
2/17/2020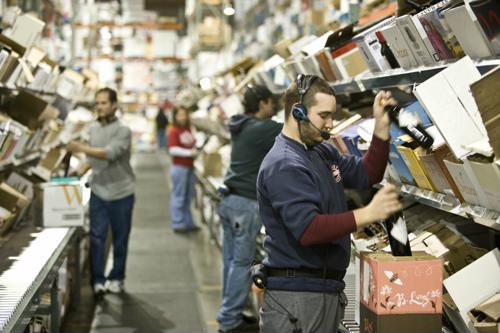 A successful logistics operation is all about efficiency. If you don't have it at the level you need, you'll often find yourself falling behind both your goals and your competition. Typically, these issues arise when it comes to picking and packing, but if you're trying to get a better handle on those processes, you may know exactly where the problem lies.
The following issues are some of the most common ways to address inefficiency in your picking, so addressing them could help your company take that next step forward:
1) Make sure your most wanted items are most accessible as well
If you're like many logistics companies, you will typically find there are some items under your roof that are always in high demand, according to 6 River. In many cases, the majority of your orders may include such items, so it's important to make sure you have those items in a place as close to the packing area as possible, and at the right height for a picker's normal posture. That way, they'll save both time and energy.
2) Find ways to reduce walk times
Likewise, it can be important for pickers to know the most efficient paths to every shelving unit in your facility from their dedicated stations, 6 River added. While the ability to save five seconds and a handful of steps here or there in any given trip may not seem like much, it really adds up over time, so ensuring everyone is properly trained on the right paths is always a good idea.
3) Try picking directly into what's used to ship
Another common issue for pickers is that they will walk around your warehouse with a tote or other carrying case, and load items into it, then go back to the packing station and unload them all, according to Newcastle Systems. However, if you dedicate most picking efforts to a single trip from the packing station, you can simply have them load those items into the box or bag you use to ship, thus saving a little bit of time on every order.
4) Reconsider how you pick overall
Again, if some of your items are of the kind that are included in almost every order, it may be wise to have a picker (or small team of them) singularly dedicated to those one, two, or three items - and then have everyone else fill in the gaps, Newcastle Systems noted. That way, they can go out and load up three, five or even 10 of those items into a single tote and bring them back to the packing area to save their coworkers a few trips.
5) Tackle clutter as it arises
When items come into your warehouse, they are often packaged together, then separated and put on your shelves, according to Food Logistics. What you do with the containers and other extraneous debris that came with those shipments can make a difference, especially if you allow that clutter to build up. Making it a company policy to take those items out to the dumpster or other trash receptacle can have a long-term positive impact on efficiency.