ICYMI: 8 insights from the Voice of the Blue-Collar Worker survey
6/7/2021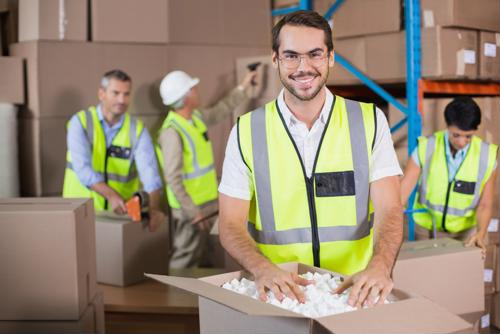 The most recent Voice of the Blue-Collar Worker survey from EmployBridge highlighted a lot of important issues in the logistics and manufacturing industry — from the workers' point of view. Given that these are the people who drive their organizations' success, their opinions should be highly valued by company leaders.
These are just some of the most important insights gleaned from the 2021 Voice of the Blue-Collar Worker survey:
1) Blue-collar workers disproportionately affected by the pandemic
Nationwide, employment is still down 6.5%, but people earning in the top 25% of incomes — that is, mostly white-collar workers — saw their employment level dip only 4%. Meanwhile, people in the bottom 75% saw employment drop 17%. This highlights how important it is for companies with job openings to make themselves as attractive as possible.
2) COVID concerns linger
Even as the effects of the pandemic continue to wane, the vast majority of workers (71%) say they remain just as concerned about their health and safety on the job as they were at this time last year.
3) Wages drive job preference
When asked why they would accept a job, 32% of blue-collar workers said the biggest factor was what they are paid. That was almost as much as the next three factors (job security, their schedule, and whether they enjoy the work) combined.
4) Workers want more scheduling flexibility
As far as scheduling is concerned, almost three-quarters of respondents say they would trade an extra $1 per hour for five more paid days off. This is therefore something you need to seriously consider, because the cost of a raise is significantly higher than the cost of that extra week off.
5) Adding part-time shifts can boost employment
Many people don't want to work blue-collar jobs because of a perception that the shifts are unforgiving, especially for parents. But if you give the option of a shift from 8:30 a.m. to 2 p.m., for example, you could do a better job of attracting workers who still need to care for their kids before and after school.
6) Working their way up the ladder
Nearly half of blue-collar workers surveyed said that, in the next two or three years, they see themselves working toward or completing a degree or certificate, or moving into a leadership role with their employer. Are you doing enough to accommodate their desire to grow as professionals and keep them around long-term?
7) What makes workers want to stick around?
What is the most common way to bolster worker loyalty? Feeling as though the company wants to see them advance in their careers (15%). This was just ahead of a good company culture and feeling respected (13%), advancement opportunities (12%), an understanding of their need for time outside of work (11%), and training or skills-development opportunities (10%).
8) Baby boomers are aging out of the industry
Boomers represented just 7% of respondents to the survey (compared to 31% being made up of millennials), and this is an indicator of an trend seen across many industries: Older workers are approaching retirement age, and they're not sticking around. This trend is likely to keep fueling the blue-collar worker shortage many companies are already observing.
Make sure you get your copy of the 2021 Voice of the Blue-Collar Worker Survey today to learn more.