EmployBridge poll finds blue-collar workers in demand, hard to retain
8/7/2019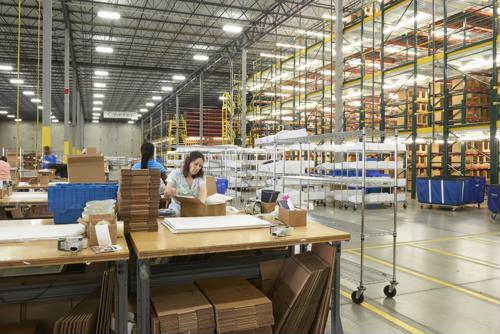 Many industries have made significant comebacks across the U.S. since the end of the recession, and one group of workers who seem to have benefited most from this momentum swing is blue-collar workers. Consequently, the warehousing industry seems to be have grown in a major way, and there's little sign of that changing in the near future.
Today, almost 3 in 5 blue-collar laborers across all sectors are between the ages of 18 and 34, while just 1 in 16 or so are baby boomers over the age of 55, according to a recent survey from EmployBridge. While there has been significant concern within all blue-collar sectors about what will happen when those older employees retire, more than half of all those workers have been on the job for less than three years.
In some ways, this should come as little surprise: Unemployment for blue-collar jobs in 2010 was nearly three times higher than the national average for white-collar positions (13% versus 4.9%) but those rates have fallen sharply. Today, blue-collar workers have an unemployment rate that's dropped nearly 300%.
Retention risk
The poll also found the rate of workers leaving blue-collar positions surged 162% over the past nine years, highlighting a potentially massive issue for the sector. Employee turnover not only drains a company of institutional knowledge that is difficult - or impossible - to replicate, it also creates a situation where companies lose a lot of productivity while a replacement worker is sought, adding up to thousands of dollars per lost employee.
The question is why people quit blue-collar jobs in the first place, and it seems that money is the primary motivating factor, cited by 22% of respondents. Among people who left jobs for a pay raise, more than 2 in 5 did so because they were in a position to earn at least $2 more per hour. Another 18% left positions to make between $1.50 and $2 more per hour. Comparing such a pay raise with the cost of losing a skilled worker may give companies pause when it comes to potentially losing a talented employee of this type.
It's not just money
However, it's worth noting that people who have stayed with their companies largely did so because of less tangible things than pay, though regular raises were given as a reason to stick around by 1 in 7 respondents. For instance, 26% said they stuck around because of the company's culture- the single biggest factor cited - and 20% did so because they liked their schedules.
Another 18% said they stayed with an employer because of the opportunities to learn new skills. However, perhaps not surprisingly, the motivations behind a desire to upskill mainly relate to financial matters: Nearly half wanted to do so to earn more salary, and 39% preferred training to pursue a new job or promotion.
With all this in mind, it may be wise for companies in the warehousing industry to consider the ways in which they can improve the pay, benefits and career opportunities they offer. Doing so will not only bolster worker retention, but their ability to attract new talent as well.