7 keys to forklift safety this winter
12/7/2020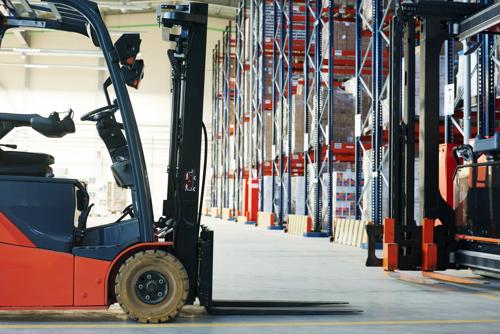 Most people who work in any industrial setting know that there is a unique set of safety issues presented by forklift use, and everyone has to change their behavior when working around this equipment. That's true all year round, but what many may not realize is there are a host of new issues that arise in winter; each must be accounted for when temperatures drop.
This includes the following considerations, all of which need to be followed to keep workers safe around a forklift this winter:
1) Make sure everything under the hood is in working order
It's likely that you require your employees who are certified to operate forklifts to inspect these machines before use, but it's even more important in winter, according to Nitco Lift. Cold weather, snow, ice and so on can all do a number on their components — whether encountered during normal operation or while they're idle — so a particularly careful inspection is needed.
2) Top off the fluids
You certainly don't want to run into issues with your engine during the winter, so it's important to make sure fluids like antifreeze and oil are topped off at this time of year, Nitco Lift cautioned. That way, you won't suffer a critical breakdown that either sidelines your workers or creates a safety risk.
3) Check the tires
If you work in parts of the country where snow and ice accumulation are possible, you need to make sure your forklift's tires can stand up to the risk, Nitco Lift further added. Are the treads sufficiently deep to get through the frozen buildup? Are they properly inflated? Are the sidewalls in good shape?
4) Take it slower than usual
It's always a good idea to operate a forklift at a slow but steady pace; the need to do so increases when the ground on which it operates has a higher risk of being wet or icy, according to Starke Forklift. As such, operators should be more careful whenever those kinds of conditions are present so that they and others can stay safe around the forklift.
5) Cover it when not in use
It's just a good idea to put a tarp or other kind of covering over the machine when the weather is bad and it's not being used, Starke Forklift said. That's true in terms of keeping the machine in good working order throughout the winter and beyond, but also protecting your investment as well as making inspections easier for employees to complete.
6) Don't use it near workers or other equipment
Similar to driving the forklift at a slower speed when conditions dictate, give everyone and everything a wider berth in winter weather, according to The Forklift Pro. The reason why is simple: If users somehow lose control of the lift, the risk of hitting something or someone is greatly reduced.
7) Don't use it in bad weather
When snow, sleet or rain is falling, the wind is howling or temperatures have dipped to dangerous lows, it's better to keep the forklift out of use, The Forklift Pro noted. That way, you're not creating unnecessary risk.