6 things you'll need to wear in a warehouse
4/7/2021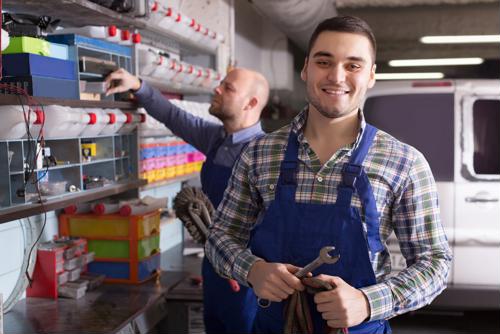 If you're just starting a new job in a warehouse setting this spring, you should keep in mind that when it comes to safety and comfort, it all starts with making sure you're dressed for success. Simply put, while many warehouses will let you wear almost anything you want to work, there is still a right and wrong way to dress in that kind of setting.
What's safe? What isn't? Read on to find out.
1) Something weather-appropriate
First and foremost, you need to remember that in a lot of warehouses jobs, you may be moving from inside to outside and back regularly throughout the day, according to Career Trend. That means making sure your clothing is versatile so you can work comfortably no matter the conditions. However, that said, most experts would caution against wearing shorts in a warehouse setting, simply because it leaves your skin exposed and, in the event of an accident, could pose a problem.
2) Loose but durable fabrics
Instead of wearing shorts, or even short sleeves in some cases, it is a good idea to make sure your clothing is loose, but not baggy, and will not tear easily, Career Trend said. You don't want your clothes to be too loose for safety reasons, or too tight due to both functionality and comfort. Finding that just-right middle ground will set you up for success.
3) High-vis PPE
In a warehouse setting, there's bound to be a lot of activity and it can be easy — especially just after you're hired — to get lost in the shuffle, so you need to be highly visible, according to Shoes for Crews. Bright or reflective clothing should be provided by your employer, but you should also try to wear bright clothing of your own, all so that you're just that much easier to see.
4) Ear protection
Warehouses can often be loud places because of how much activity happens under their roof, and even if you don't think it's that big of a deal, it's a good idea to have some sort of noise-reducing ear protection, Shoes for Crews added. Something as simple as the low-cost earplugs you can get from most pharmacies can help you protect your hearing in the long term.
5) Heavy-duty footwear
For most warehouse workers, walking and standing is a big part of the job — as such, you need shoes that hold up, according to Hood MWR. Don't wear soft sneakers, even if they're comfortable. Instead, go with a big, heavy work shoe or boot that provides a lot of support, doesn't slip and protects your feet from dropped objects.
6) Everything with safety in mind
As you can likely tell from the list above, safety should be a big concern for whatever you wear in a warehouse, so anything you choose for your daily wardrobe should be chosen with that condition in mind, Hood MWR noted. If you're not sure, it's better to err on the side of caution and comfort.