Warehouse jobs continue to proliferate nationwide
10/9/2018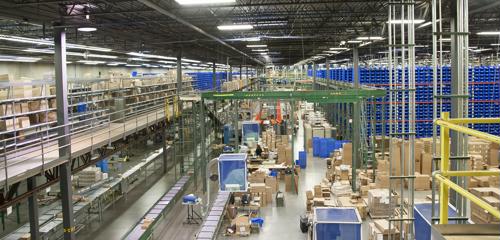 Those who keep a close eye on the broader job market nationwide have likely seen a lot of talk about the "skills gap" in a number of industries. One sector where that gap exists and is growing - especially due to the combination of low unemployment rates and high industry demand - is logistics, as many companies are creating hundreds of warehouse jobs that pay well but can't always fill them.
In Plainfield, Indiana, warehousing has become a bit of a bedrock business, as the city is home to about half of all warehousing jobs in its region, according to Indianapolis television station WTHR. Some of the biggest names in retail have supply chain hubs there, measuring some 45 million square feet altogether. And while an estimated 18,000 people commute into the city every day for work, the companies based there still have as many as 2,000 jobs available at any given time.
Experts say those job openings stem not necessarily from the skills gap itself - though that doesn't necessarily help - but from a lack of transportation infrastructure that would make it easier for low-paid workers to easily commute to these higher-paying warehouses, the report said.
"It's transportation that's the problem," worker Tanya Gilbert, who commutes from Indianapolis every day, told the station. "We've got to catch three buses to (get to work) and get up early in the morning, but there are opportunities here, a lot of jobs."
Out in Nevada
Meanwhile, because of the demand for warehousing services these days, more companies are also building new facilities to keep up, according to Northern Nevada Business. To that end, a medical device manufacturer is looking to build a new site in Sparks, Nevada - near Reno - measuring about 200,000 square feet and capable of employing approximately 200 people when fully operational.
The facility will cost about $40 million, and will also be home to research centers and manufacturing operations, the report said. The company is the latest in a growing number of those originating from the Silicon Valley area to put down manufacturing and/or warehousing roots near Reno.
On the East Coast
In addition, a commercial real estate developer wants to start construction in the near future on a $51 million warehouse at a former defense contractor manufacturing site, creating 190 jobs in the process, according to New York Newsday. This would not be build on speculation, but rather would be used to boost an existing warehousing operation for the shipping titan FedEx, which already operates a smaller facility near the site. If approved by local lawmakers - with a commensurate tax break - it's expected FedEx would occupy the new warehouse for at least 15 years.
When companies are trying to attract warehouse workers - whether to existing or new operations - it's vital that they provide those laborers with strong pay and excellent benefits. Doing so will not only draw in those employees initially, but keep turnover costs down by ensuring they are retained for years to come.