4 budget-friendly ways to improve warehouse productivity
12/1/2021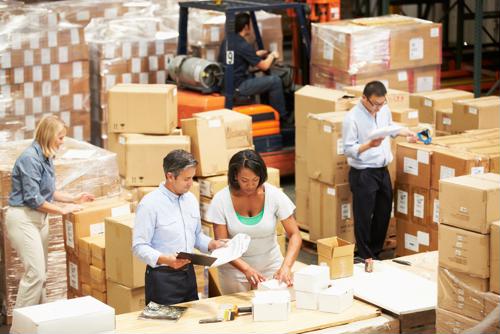 As the new year approaches, businesses are taking a hard look at their budget for 2022.
After a tumultuous year — one that included COVID-19, the "Great Resignation" and now a labor shortage — warehouses are playing a game of catch-up. To mitigate that lost productivity, here are a few budget-friendly strategies warehouses can use to keep up the pace.
1. Focus on what you can change right now
Take a walk around the facility and make notes on what can be improved within the warehouse today. Whether it be the picking, packing or distribution process, there's plenty of insight to be gained by taking a closer look at your fulfillment center's central operations.
The root of many warehouse inefficiencies begins with a suboptimal layout for the picking process. In fact, Veeqo estimates that 60% of a picker's time is spent wandering around the facility between picks. By reducing the amount of dead time, you can streamline picking and get a head start on packing — a significant way to negate the cost of a labor shortage.
2. Optimize waste disposal
You'd be surprised how much time is spent getting rid of a facility's packaging waste. If your warehouse processes a high volume of orders, which it almost certainly will during the holidays, you'll likely produce a lot of waste. Make sure your warehouse associates know ahead of time exactly where to properly dispose of the cardboard boxes, shipping wrap or other waste materials.
Don't let waste hold your warehouse back during peak volumes. The less time your employees are worrying about packaging disposal, the more time they can focus on more significant tasks. At the end of a shift, that time makes all the difference for the bottom line.
3. Make the most of the space you have
Warehouses, obviously, are home to plenty of products. The more space you have, the more products you can store at any given time. One of the most cost-effective ways to mitigate the labor shortage is to squeeze in as much product as possible while still staying organized.
Conger recommends storing items according to size, especially those that are unpackaged. Items without packaging are often placed in bins without much consideration for sizing. By using the most appropriate bin relative to the item's size, you can store more goods in a single bin. Plus, you'll have an effective organizational system to locate those items when you need them.
4. Invest in SaaS solutions
If there's room in your warehouse's budget, technology solutions will pay dividends in the long term. Software-as-a-service technologies are cheaper than other software solutions. Their "as-a-service" business model negates the upfront costs of owning the technology, but the resulting boost to productivity is well worth the investment.
Warehouse management systems, for example, offer greater visibility into the facility's operations. From a comprehensive perspective, managers can make more informed decisions and foresee potential disruptions in the supply chain. Better yet, they can keep employees on task and monitor productivity with real-time data.